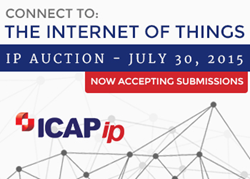 This innovative crash warning system will help save lives.
New York, NY (PRWEB) June 18, 2015
ICAP Patent Brokerage announces for sale patents disclosing the next generation in crash warning systems – a hazard warning system for vehicles that relays warning information from nearby vehicles or surrounding objects. This portfolio is available from BCS Business Consulting Services Pte Ltd. as part of the Internet of Things IP Auction, with a bidding deadline of July 30, 2015.
"This innovative crash warning system will help save lives. The technology is particularly timely given the U.S. Department of Transportation's National Highway Traffic Safety Administration (NHTSA) has released an advance notice of proposed rulemaking (ANPR) on vehicle-to-vehicle communications technology," says Dean Becker, CEO of ICAP Patent Brokerage. "It is an important portfolio for companies involved in vehicle or GPS navigation, vehicle crash detection and warning systems, and smart car systems."
Key Characteristics & Benefits
This portfolio includes smart car crash and hazard detection and warning systems that alert drivers to nearby danger. Conventional vehicles fail to communicate unseen hazards to drivers, resulting in collision, accident, and even death. This patented technology includes a system adapted to provide a warning to a vehicle operator of nearby hazards, e.g., that a nearby vehicle has been in a collision or is otherwise inoperable. Embodiments include a detector operable to detect a hazard, a transmitter to transmit a warning signal, a receiver to receive a transmitted warning signal, and a display to warn the operator of an approaching vehicle of the hazard. Some embodiments incorporate feedback from a vehicle's airbag deployment circuitry to provide a trigger effective to broadcast the warning signal. The operator of an approaching vehicle may be provided with a visual and/or an audible warning signal, e.g., via a cellular telephone. Certain embodiments provide such warning to approaching vehicles via the transmitted warning signal and a display and/or speaker carried in the approaching vehicle. Audible and visual warnings may be transmitted directly from the crashed vehicle.
See the technical description of the crash warning system IP sales offering.
To learn more about the intellectual property available for sale in this portfolio:
Contact Michelle Tyler of ICAP Patent Brokerage at (650) 741-4117 or via email at michelle(at)icapip(dot)com.
If you have a patent portfolio for sale, visit our website to make a patent portfolio submission for an upcoming sealed bid event.
Follow us on Twitter (@ICAP_IP) and join our LinkedIn group.
About ICAP Patent Brokerage
ICAP Patent Brokerage is the world's largest intellectual property brokerage and patent auction firm, leveraging the talents of experienced patent brokers to match buyers and sellers for the sale of patents and other intellectual property assets. With multiple transaction platforms and unparalleled industry knowledge, including experience with trademarks, brands, intellectual property licensing, and UCC sales, ICAP Patent Brokerage is the global leader in the transaction of intellectual property.
Media Contact
Sarah Saites
(312) 327-4437
Sarah(at)icapip(dot)com
###