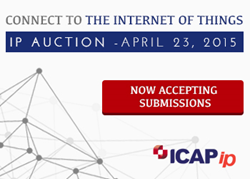 This technology provides new levels of insight and understanding of media collections, with the potential to increase digital goods sales and participation on media storage platforms.
NEW YORK, NY (PRWEB) February 05, 2015
ICAP Patent Brokerage announces for sale patents disclosing methods which allow comparison and analysis of digital libraries and sharing based on metadata, available from inventor John W. Ogilvie. This portfolio is offered as part of the Internet of Things IP Auction, with a bidding deadline of April 23rd, 2015.
"This technology provides new levels of insight and understanding of media collections, with the potential to increase digital goods sales and participation on media storage platforms," says Dean Becker, CEO of ICAP Patent Brokerage.
Key Characteristics & Benefits
The explosion of digitally purchased and stored entertainment calls for improved ways to analyze, compare, and share user libraries of these goods, where selections and/or modification of selections are digitally tracked, e.g., movies, TV shows, podcasts, apps, ringtones, and radio stations, and other libraries containing entries such as songs, videos, games, podcasts, and/or digitally-presented products. Sometimes a library is maintained in conjunction with user activity on sites such as the iTunes store, Last.fm, Pandora.com, YouTube.com, Hulu.com, Amazon.com, Netflix, and their respective competing or complementary sites, and in connection with recording systems such as the Tivo, Xfinity On Demand, etc. Song plays, game rentals, videos, audio library checkouts, podcasts, online magazines, and other digital goods may be entries in some libraries. Web analytics, purchasing histories, and other mechanisms used to track user browsing and/or user purchases may also be used to identify library entries.
This portfolio discloses methods of comparing digital goods libraries via their datasets, which include organizational and historical data. Potential comparison results include a shared multiple natural languages presence, shared genre frequency change, shared artist frequency change, shared digital good frequency change, shared outlier presence, shared similar songs presence, and/or shared recommendable goods presence. Proper subsets of datasets may be specified by playlist, genre, artist, category, date, play frequency, and/or play count, and then compared. Comparison results may be visualized, such as playlist content over time, play frequency over time, and/or play count over time. Some results include printed or spoken text such as an artist name, actor name, author name, genre name, and/or review content. Control over disclosure of library owner identity is provided. In some cases a dataset is compared with multiple datasets in a group, e.g., to help assess compatibility between a prospective member and current members. This information can be used to enhance social sharing of these lists or to enhance users' personal enjoyment of their collections. Global consumer spending on digital content grew to over $57 billion in 2013, which was up almost 30% from $44 billion in 2012 (1).
See the technical description of the media library analytics IP sales offering.
(1)https://www.ihs.com/info/0214/digital-content-report.html
To learn more about the intellectual property available for sale in this portfolio:
Contact Michelle Tyler of ICAP Patent Brokerage at (650) 741-4117 or via email at michelle(at)icapip(dot)com.
If you have a patent portfolio for sale, visit our website to make a patent portfolio submission for an upcoming sealed bid event.
Follow us on Twitter (@ICAP_IP) and join our LinkedIn group.
About ICAP Patent Brokerage
ICAP Patent Brokerage is the world's largest intellectual property brokerage and patent auction firm, leveraging the talents of experienced patent brokers to match buyers and sellers for the sale of patents and other intellectual property assets. With multiple transaction platforms and unparalleled industry knowledge, including experience with trademarks, brands, intellectual property licensing, and UCC sales, ICAP Patent Brokerage is the global leader in the transaction of intellectual property.
Media Contact
Sarah Saites
(312) 327-4437
Sarah(at)icapip(dot)com