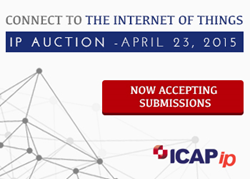 This is an important portfolio for companies involved in email software and services.
New York, NY (PRWEB) February 25, 2015
ICAP Patent Brokerage announces for sale patents disclosing a system for multi-password email authentication, available from inventor Joel Vidal. This portfolio is offered as part of the Internet of Things IP Auction, with a bidding deadline of April 23rd, 2015.
"This is an important portfolio for companies involved in email software and services," says Dean Becker, CEO of ICAP Patent Brokerage.
Key Characteristics & Benefits
Millions of computer users utilize electronic mail (email) on a daily basis, in order to electronically send and receive messages. Email communications allow users to stay in touch with each other, and to communicate easily, rapidly, and in a non-expensive manner even if the users are located many miles apart from each other.
In some email services, e.g., in a web-mail service, the user may be required to enter his unique username (or his unique login-name, or his unique email address), as well as a password, in order to obtain access to his email account. Once the user logs-in to his email account, the user is able to read incoming email messages, compose new email messages and send them, reply to incoming email messages, forward email messages to third parties, perform search operations on email messages, manage or add or delete or edit personal contacts, move email messages between folders, and perform all other email-related operations.
This technology provides an increased layer of authentication required to access email systems and includes dual password authentication systems, devices, and methods to achieve this goal. The number of worldwide email accounts is expected to increase from an installed base of 3.1 billion in 2011 to nearly 4.1 billion by year-end 2015(1).
Forward citing companies include Microsoft, Cisco, Cannon, Salesforce, IBM, Research In Motion, Google, Bank of America, and Intellectual Ventures.
See the technical description of the multiple-password electronic mail access IP sales offering.
(1)http://www.radicati.com/wp/wp-content/uploads/2011/05/Email-Statistics-Report-2011-2015-Executive-Summary.pdf
To learn more about the intellectual property available for sale in this portfolio:
Contact Michelle Tyler of ICAP Patent Brokerage at (650) 741-4117 or via email at michelle(at)icapip(dot)com.
If you have a patent portfolio for sale, visit our website to make a patent portfolio submission for an upcoming sealed bid event:
http://icappatentbrokerage.com/auction/submitip/
Follow us on Twitter (@ICAP_IP) and join our LinkedIn group.
About ICAP Patent Brokerage
ICAP Patent Brokerage is the world's largest intellectual property brokerage and patent auction firm, leveraging the talents of experienced patent brokers to match buyers and sellers for the sale of patents and other intellectual property assets. With multiple transaction platforms and unparalleled industry knowledge, including experience with trademarks, brands, intellectual property licensing, and UCC sales, ICAP Patent Brokerage is the global leader in the transaction of intellectual property.
Media Contact
Sarah Saites
(312) 327-4437
Sarah(at)icapip(dot)com
###