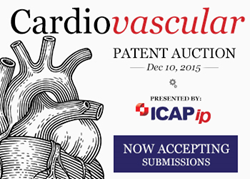 The multi-lumen catheter and endarterectomy instrument patents by Dr. Harkrider present elegant disposable products with universal appeal to the cardiovascular space with early 1999 priority dates.
NEW YORK, NY (PRWEB) October 07, 2015
ICAP Patent Brokerage announces for sale patents disclosing the endarterectomy instruments to assist with vascular dissection and multi-lumen catheters or sheaths. This portfolio is available from William W. Harkrider, Jr., MD, FACS, RPVI, FSVU as part of the 2015 Cardiovascular Auction. The brokerage continues to accept technology submissions for the auction, which will have a bidding deadline of December 10, 2015.
Dr. Harkrider, a cardiac surgeon at Louisiana State University, has developed a very extensive and impressive curriculum vitae as a well-certified surgeon with multiple academic, professional and research appointments, extensive teaching experience and responsibilities, and multiple papers presented. Dr. Harkrider has spoken and presented at dozens of seminars, presentations, and CME lectures, and is a trusted leader in various cardiovascular fields of medicine. See the biography for Dr. Harkrider.
"The multi-lumen catheter and endarterectomy instrument patents by Dr. Harkrider present elegant disposable products with universal appeal to the cardiovascular space with early 1999 priority dates," said Dean Becker, CEO of ICAP Patent Brokerage. "These patent assets form a portfolio highly relevant to products on the market today and for companies involved in angioplasty, endarterectomies, intravascular instruments, atherosclerosis, vascular surgery, laparoscopy, single incision / single port surgery, and endoscopic surgery."
Key Characteristics & Benefits
The portfolio features 1) a highly-manufacturable, low-cost and disposable endarterectomy instrument with a 1999 priority date and 2) a disposable multi-lumen surgical sheath or catheter also with an early 1999 priority date.
First, U.S. Patent 6,146,397 relates to an endarterectomy instrument and method for the treatment of atherosclerosis including a loop and a handle formed from a single strand of wire, the wire of the handle being twisted together to increase the rigidity thereof, but being sufficiently flexible to avoid perforation of the outer layer of the vessel. The angle and shape of the loop may be varied to fit the vessel. In some embodiments, the loop may be compressible to facilitate insertion through a small diameter lumen of a catheter.
Second, the remainder of the portfolio relates to a radially non-deformable surgical access catheter or sheath with a central lumen surrounded by plural peripheral lumens. The multi-lumen catheter technology appears to relate to many multi-lumen catheter and single-incision (multi-lumen port) surgical solutions currently on the market today.
See the technical description of the Multi-lumen Catheter and Endarterectomy Instrument IP sales offering.
Sample forward or rearward citing companies include Boston Scientific, Johnson & Johnson, Scimed, Inc., C.R. Bard, Inc., Rex Medical L.P., Nico Corporation, Olympus Corporation, The Cleveland Clinic Foundation, and Artasis Inc.
To learn more about the intellectual property available for sale in this portfolio:
Contact Michelle Tyler of ICAP Patent Brokerage at (650) 741-4117 or via email at michelle(at)icapip(dot)com.
If you would like to sell or auction a patent portfolio, visit our website to make a patent portfolio submission:
http://icappatentbrokerage.com/auction/submitip/
Follow us on Twitter (@ICAP_IP) and join our LinkedIn group.
About ICAP Patent Brokerage
ICAP Patent Brokerage is the world's largest intellectual property brokerage and patent auction firm, leveraging the talents of experienced patent brokers to match buyers and sellers for the sale of patents and other intellectual property assets. With multiple transaction platforms and unparalleled industry knowledge, including experience with trademarks, brands, intellectual property licensing, and UCC sales, ICAP Patent Brokerage is the global leader in the transaction of intellectual property.
Media Contact
Sarah Saites
(312) 327-4437
Sarah(at)icapip(dot)com
###