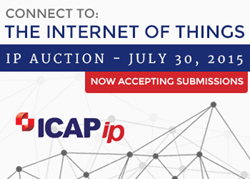 This system enhances the dining experience of the estimated 50% of diners who have special food preferences, and can potentially prevent fewer food-caused health issues.
NEW YORK, NY (PRWEB) July 08, 2015
ICAP Patent Brokerage announces for sale a patent application approved to be issued disclosing a system for enhancing the dining experience for persons with food preferences, sensitivities or allergies, available from inventor Adrian Gluck. This patent application, approved to be issued, is offered as part of the Internet of Things IP Auction, with a bidding deadline of July 30th, 2015.
"This system enhances the dining experience of the estimated 50% of diners who have special food preferences, and can potentially prevent fewer food-caused health issues, enabling those with food sensitivities and allergies to have many more dining choices and to comfortably enjoy the experience of dining out," says Dean Becker, CEO of ICAP Patent Brokerage.
Key Characteristics & Benefits
This portfolio offers benefits to dining out, and more particularly to providing a pleasant dining experience for people with food preferences, food intolerances and food allergies. Patrons may request preparation alterations such as no gluten, no peanut oil, no trans-fats, no butter, no shellfish, etc. They may exhibit preferences such as vegetarian, kosher, low-sodium, and so forth. Restaurant personnel certainly seek to serve patrons food they desire, but servers may simply not know of the contents of all ingredients of a particular dish, or may not communicate the preference properly to the kitchen staff. In an absolute worst case scenario, a patron with food sensitivities may be faced with few or even no choices from a full restaurant menu.
The portfolio covers methods for creating a personal profile for a user that catalogues their preferences and sensitivities. This profile is stored in a database and can be accessed by restaurant reservation systems such as Open Table and the restaurants themselves, such that when a patron arrives at the restaurant the menu that the patron views is customized to their tastes and preferences. Further, these food sensitivities and preferences are then seamlessly and digitally communicated with the kitchen staff, which minimizes lost server time and maximizes restaurant revenues.
This enhanced system provides numerous benefits to patrons including: (i) more choices of restaurants; (ii) more meal choices; (iii) better restaurant experience and; (iv) fewer food-caused health issues. Additionally, restaurants will also enjoy many benefits including: (i) more patrons; (ii) higher revenues per patron; (iii) higher patron satisfaction; (iv) lower operating costs and; (v) a better work environment.
See the technical description of the enhanced restaurant experience IP sales offering.
To learn more about the intellectual property available for sale in this portfolio:
Contact Michelle Tyler of ICAP Patent Brokerage at (650) 741-4117 or via email at michelle@icapip.com.
If you have a patent portfolio for sale, visit our website to make a patent portfolio submission for an upcoming sealed bid event.
Follow us on Twitter (@ICAP_IP) and join our LinkedIn group.
About ICAP Patent Brokerage
ICAP Patent Brokerage is the world's largest intellectual property brokerage and patent auction firm, leveraging the talents of experienced patent brokers to match buyers and sellers for the sale of patents and other intellectual property assets. With multiple transaction platforms and unparalleled industry knowledge, including experience with trademarks, brands, intellectual property licensing, and UCC sales, ICAP Patent Brokerage is the global leader in the transaction of intellectual property.
Media Contact
Sarah Saites
(312) 327-4437
Sarah(at)icapip(dot)com
###