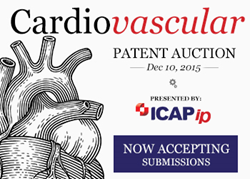 The interventional cardiology and cardiovascular market is the most specific niche we've pursued to date, yet already inventory has climbed to well over 150 assets, and continues to rise.
New York, NY (PRWEB) October 08, 2015
ICAP Patent Brokerage is seeing significant interest and participation in its upcoming Cardiovascular Medical Patent Auction, set for December 10, 2015. "I'm pleased to say, the level of activity has exceeded our expectations," said Peter Johnson, Senior Vice President over medical patents. "The interventional cardiology and cardiovascular market is the most specific niche we've pursued to date, yet already inventory has climbed to well over 150 assets, and continues to rise."
If the number of listings set for the auction continues to rise, the trend could help create ICAP Patent Brokerage's largest auction of 2015. To date, the inventory already appears to be the strongest collection of independently owned cardiovascular intellectual property available on the market today. New sellers continue to show interest in joining the brokerage's cardiovascular patent marketing program. The brokerage continues to receive significant interest from additional innovators and surgeons who may also list their technologies. An infographic summarizing the current cardiovascular offering at ICAP Patent Brokerage can be found here.
To date, the cardiovascular auction inventory is estimated as follows:

163 Total Assets
23 Portfolios
14 Distinguished Surgeons, Physicians, and Medical Innovators
$18.3 to $23.2 million* estimated combined potential value of offering
Activity from potential buyers also continues to increase. Of the hundreds of buyers, licensees, brokers and intermediaries in ICAP Patent Brokerage has contacted already, many are performing due diligence on portfolios available in the upcoming auction. "The strong level of buyer interest speaks to the value proposition – a large inventory of highly relevant assets which would otherwise need to be procured collaterally to a merger or acquisition," added Johnson.
With 2015 deals announced or closed between St. Jude Medical and Thoratec, Medtronic and Covidien, Cardinal Health and Cordis, Edwards Lifesciences Corporation and CardiAQ Valve Technologies, Inc., Abbott and Tendyne Holdings, Inc. and other entities across the industry, ICAP PATENT BROKERAGE seeks to help increase the growing list of 2015 technology and intellectual property transactions in the cardiovascular space, with emphasis on structural heart and mitral valve therapies. The technologies offered through ICAP Patent Brokerage present a compelling competitive opportunity to work with experienced product design surgeons, bring new therapies to patients and strengthen relevant patent holdings.
Interested parties are encouraged to contact Mr. Johnson with any questions regarding the portfolios for sale, the bidding process, possible pre-auction offers, licensing opportunities, or bundled sales by emailing peter(at)icapip(dot)com, or calling him directly at (801)828-0100.
Companies most frequently citing patents and applications in the inventory include Boston Scientific Corporation, Johnson & Johnson, Medtronic, Abbott Laboratories, Edwards Lifesciences, Cardiac Dimensions, C.R. Bard, Vascular Control Systems, Portaero, Cardiokinetix, Biosensors International Group, and Horizon Technology Finance Corporation.
Sellers interested in joining the global leader in intellectual property brokerage for the world's first cardiovascular patent auction, any upcoming public auction, or privately monetizing their assets are invited to contact Michelle Tyler of ICAP Patent Brokerage at (312) 327-4438 or via email at michelle(at)icapip(dot)com, or submit their portfolios directly to our website: http://icappatentbrokerage.com/auction/submitip/
Follow us on Twitter (@ICAP_IP) and join our LinkedIn group.
About ICAP Patent Brokerage
ICAP Patent Brokerage is the world's largest intellectual property brokerage and patent auction firm, leveraging the talents of experienced patent brokers to match buyers and sellers for the sale of patents and other intellectual property assets. With multiple transaction platforms and unparalleled industry knowledge, including experience with trademarks, brands, intellectual property licensing, and UCC sales, ICAP Patent Brokerage is the global leader in the transaction of intellectual property.
Media Contact
Sarah Saites
(312) 327-4437
Sarah(at)icapip(dot)com
*The range estimate above and in the title of this press release is based upon a price per U.S. patent of approximately $251k to 319k based upon recent published studies (see citation in infographic accompanying this press release). Pricing for actual trades (whether before, during or after the auction) may vary.Company names and trademarks are the property of their respective entities. No sponsorship, affiliation, or endorsement between ICAP Patent Brokerage and such entities is inferred herein.
###