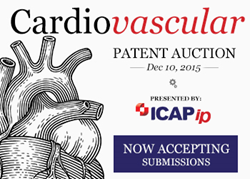 The appointment of Peter to a senior position demonstrates our commitment to move into the heart of medical.
New York, NY (PRWEB) July 15, 2015
Continuing to build upon early success from its sector-specific patent auctions, including the April 2015 and upcoming July Internet of Things IP Auction, ICAP Patent Brokerage has appointed Peter Johnson as its Senior Vice President of medical patent monetization to oversee its first-ever medical sector patent auction, featuring life-saving cardiovascular technologies. The auction will be held December 10, 2015. Portfolios will be posted on the December Cardiovascular IP Auction page as they become available to the broader market. The brokerage is actively seeking portfolios for inclusion in the auction.
ICAP's team is pleased to announce that Peter Johnson has joined as Senior Vice President to lead intellectual property monetization for ICAP Patent Brokerage's medical, biotechnology, and life sciences division. Peter brings over a decade of medical industry intellectual property transaction experience with many of the leading companies in the medical space. Mr. Johnson's bio is available here.
"The appointment of Peter to a senior position demonstrates our commitment to move into the heart of medical," stated Doug Rhoten, Chairman of ICAP Patent Brokerage. "Peter will apply his medical IP expertise within cardiovascular to help build out this new area for ICAP Patent Brokerage upon the early success of our sector-specific auctions and ICAP's proven, trusted, and leading position in other industries outside medical."
Mr. Johnson has helped close over one hundred medical patent transactions over the past decade. He hopes to successfully apply ICAP's well-established processes to facilitate more patent transactions between medical patent buyers and sellers. Said Johnson, "Compatible with its trusted neutrality in other industries, ICAP will keep an open mind during the due diligence, negotiation, and transaction phases of IP deals as we seek to foster goodwill and long-term relationships across the medical industry."
The cardiovascular auction will feature patents and their related life-saving technologies for implantable devices (catheters, balloons, stents), surgical tools and procedures, device coatings, and other systems and methods relating to the following specialties and indications: arteriosclerosis, clinical EP, CV radiology, echocardiography, general cardiology, heart failure, structural heart disease, cardiology imaging, interventional cardiology, pediatric, preventative cardiology, transplant cardiology, hematology, cardiac rehabilitation, cardio-thoracic surgery, vascular surgery, thrombosis, and vascular medicine.
Sellers (and their agents and brokers) interested in listing their cardiovascular-related patents or technologies in ICAP's 2015 Cardiovascular Auction may do so by contacting Peter Johnson at peter@icapip.com or (801) 828-0100, or by submitting their patents at our website. To provide buyers with a 90-day due diligence period before the auction, sellers should consign their patents with ICAP no later than Labor Day - September 7, 2015. Buyers interested in bidding during the auction or negotiating outside the auction process are also encouraged to contact Mr. Johnson.
Follow us on Twitter (@ICAP_IP) and join our LinkedIn group.
About ICAP Patent Brokerage
ICAP Patent Brokerage is the world's largest intellectual property brokerage and patent auction firm, leveraging the talents of experienced patent brokers to match buyers and sellers for the sale of patents and other intellectual property assets. With multiple transaction platforms and unparalleled industry knowledge, including experience with trademarks, brands, intellectual property licensing, and UCC sales, ICAP Patent Brokerage is the global leader in the transaction of intellectual property.
Media Contact
Sarah Saites
(312) 327-4437
Sarah(at)icapip(dot)com
###