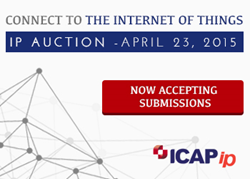 The purchaser of this portfolio will be in a position to radically improve information and communication within the medical field, and the overall quality of patient care for millions of individuals.
NEW YORK, NY (PRWEB) February 12, 2015
ICAP Patent Brokerage announces for sale patents disclosing an optimal medical care delivery system, available from inventor Bruce Reiner. This portfolio is offered as part of the Internet of Things IP Auction, with a bidding deadline of April 23rd, 2015.
"The purchaser of this portfolio will be in a position to radically improve information and communication within the medical field, and the overall quality of patient care for millions of individuals," says Dean Becker, CEO of ICAP Patent Brokerage.
Key Characteristics & Benefits
The digitization of medicine has led to an explosion in medical data quantity and accessibility. Technology, the demands of professional associations and patients, and quality and accountability mandates written into the Affordable Care Act (ACA) and American Taxpayers Relief Act, are converging towards a tipping point for Big Data in medicine. Unfortunately, most medical data exists in non-standardized formats, limiting true datafication by precluding the creation of referenceable databases and large-scale medical analyses. Large-scale medical analytics form the foundations of optimal medical care delivery: evidence-based medicine, personalized medicine, artificial intelligence in decision support, and clinical outcomes analyses. Data derived from analytics leads to quantitative accountability, creating improvements in quality, safety, efficiency, and economics.
This portfolio contains 79 assets in 30 families, including 20 US Patents, with priority dates ranging from 2004 – 2008. Disclosed are nearly 1300 claims which cover medical quality, safety and security, reporting and communication, workflow and productivity, and data mining / decision support. Specific technologies include:

QA Sensors
Radiation Scorecards
Quality Scorecards
Biometrics
Adaptive learning
Data mining and decision support
Gesture-Based Reporting
Human-computer interaction
Taken as a whole, the portfolio discloses a 'Continuum of Care' – an end-to-end turnkey process for the life-cycle of electronic medical records. The relationship between steps, their individual stakeholders, and downstream effects can be determined via continuous data updates and analysis. The end result is customizable analytics at the point of care, where intervention has the most profound impact.
Big Data will be at the center of future medical innovation, with financial opportunities focused on improving health care outcomes via quality and safety, communication, decision support, and education. The global market for electronic medical records is expected to reach $22.3 billion by the end of 2015(1).
Forward citing companies include Apteryx, Inc, Atirix Medical Systems, Canon Kabushiki Kaisha, Fujifilm, France Telecom, General Electric, Hewlett-Packard, Hospitalists Now, Inc, Infosys Limited, IBM, Toshiba, Philips, Konica Minolta Medical, Microsoft, Nike,, Precision Dynamics Corporation, Premerus, Llc, Samsung Electronics Co., Ltd., SAP Ag, Saudi Arabian Oil Company, and Siemens Medical Solutions.
See the technical description of the continuum of care IP sales offering.
(1)http://newsroom.accenture.com/news/global-market-for-electronic-health-records-expected-to-reach-22-3-billion-by-the-end-of-2015-according-to-accenture.htm
To learn more about the intellectual property available for sale in this portfolio:
Contact Michelle Tyler of ICAP Patent Brokerage at (650) 741-4117 or via email at michelle(at)icapip.com.
If you have a patent portfolio for sale, visit our website to make a patent portfolio submission for an upcoming sealed bid event.
Follow us on Twitter (@ICAP_IP) and join our LinkedIn group.
About ICAP Patent Brokerage
ICAP Patent Brokerage is the world's largest intellectual property brokerage and patent auction firm, leveraging the talents of experienced patent brokers to match buyers and sellers for the sale of patents and other intellectual property assets. With multiple transaction platforms and unparalleled industry knowledge, including experience with trademarks, brands, intellectual property licensing, and UCC sales, ICAP Patent Brokerage is the global leader in the transaction of intellectual property.
Media Contact
Sarah Saites
(312) 327-4437
Sarah(at)icapip.com
###