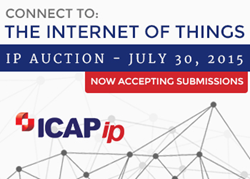 This is a comprehensive, streamlined, end-end inventory control system technology – a vast improvement over existing offerings.
NEW YORK, NY (PRWEB) June 29, 2015
ICAP Patent Brokerage announces for sale patents disclosing a real-time total asset visibility system utilizing multi-frequency RFID tags, available from inventor Touraj Ghaffari. This portfolio is offered as part of the Internet of Things IP Auction, with a bidding deadline of July 30th, 2015.
"This is a comprehensive, streamlined, end-end inventory control system technology – a vast improvement over existing offerings," says Dean Becker, CEO of ICAP Patent Brokerage.
Key Characteristics & Benefits
This invention is directed to using RFID tags in a real-time total asset visibility and monitoring system for maintaining inventory control, on a real time basis, of a variety of articles and within a monitored locale. In addition, the monitoring system is capable of locating, tracking, identifying, and in some cases communicating with personnel so as to better accomplish the aforementioned real time total asset visibility of an area or locale being monitored, such as a warehouse, manufacturing or storage facility, transport and/or delivery vehicles, as well as a variety of retail facilities. This versatile system can be used for inventory control as well as positional and movement tracking of various articles with minimal or no structural/operational modifications. The system is full duplex, able to transmit with one frequency and receive with another. This allows for the ability to create zoning while communicating. Once a tag is ID'd it can go into sleep mode for power conservation. The system also features RSSI (Receiver Sensitivity Signal input).
Sample Forward Citing Companies include LG, Intellectual Ventures, Stanley Black & Decker, Tyco, HP, and Wal-Mart.
See the technical description of the multi-frequency RFID tag IP sales offering.
To learn more about the intellectual property available for sale in this portfolio:
Contact Michelle Tyler of ICAP Patent Brokerage at (650) 741-4117 or via email at michelle@icapip.com.
If you have a patent portfolio for sale, visit our website to make a patent portfolio submission for an upcoming sealed bid event.
Follow us on Twitter (@ICAP_IP) and join our LinkedIn group.
About ICAP Patent Brokerage
ICAP Patent Brokerage is the world's largest intellectual property brokerage and patent auction firm, leveraging the talents of experienced patent brokers to match buyers and sellers for the sale of patents and other intellectual property assets. With multiple transaction platforms and unparalleled industry knowledge, including experience with trademarks, brands, intellectual property licensing, and UCC sales, ICAP Patent Brokerage is the global leader in the transaction of intellectual property.
Media Contact
Sarah Saites
(312) 327-4437
Sarah(at)icapip(dot)com
###