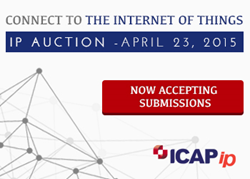 This is an important portfolio for telecommunication, security and home automation companies.
New York, NY (PRWEB) March 04, 2015
ICAP Patent Brokerage announces for sale patents disclosing methods of allowing entry to a building or residence via smartphone or mobile device, available from Anders Trell and Anders Trell Trust. This portfolio is offered as part of the Internet of Things IP Auction, with a bidding deadline of April 23rd, 2015.
"This is an important portfolio for telecommunication, security and home automation companies," says Dean Becker, CEO of ICAP Patent Brokerage.
Key Characteristics & Benefits
Conventional methods of entry (e.g., code locks, card readers, biometric readers, etc.) potentially bar an occasional and otherwise welcome person visiting a tenant in a locked building. Entrance telephones combined with code locks overcome this disadvantage, in part, but do little to minimize high initial costs to install hardwired systems or the running costs associated with subscriber-based systems. This portfolio discloses an improved method for access communication and control using a mobile telephone.
The portfolio describes a solution to the foregoing that is simple, low cost, easily installed, and which offers good security, full speech, and data communication between a visiting person calling by a mobile phone, and a chosen tenant with the possibility for the tenant to reply to the call and perform the control function – i.e., in this example, open the entrance lock free of cost. This patent also enables two-way communication between a service provider, man or machine, and a machine performing services requested by a user employing a mobile phone. Once a call has been initiated with a service provider, the mobile phone is placed in a cradle having a microphone, a loudspeaker, or other short range communication tool, such as IR or Bluetooth, thereby establishing a two-way signal or data transfer link with the service provider over which requested access can be effectuated by the same.
See the technical description of the entrance gate access system IP sales offering.
To learn more about the intellectual property available for sale in this portfolio:
Contact Michelle Tyler of ICAP Patent Brokerage at (650) 741-4117 or via email at michelle(at)icapip(dot)com.
If you have a patent portfolio for sale, visit our website to make a patent portfolio submission for an upcoming sealed bid event.
Follow us on Twitter (@ICAP_IP) and join our LinkedIn group.
About ICAP Patent Brokerage
ICAP Patent Brokerage is the world's largest intellectual property brokerage and patent auction firm, leveraging the talents of experienced patent brokers to match buyers and sellers for the sale of patents and other intellectual property assets. With multiple transaction platforms and unparalleled industry knowledge, including experience with trademarks, brands, intellectual property licensing, and UCC sales, ICAP Patent Brokerage is the global leader in the transaction of intellectual property.
Media Contact
Sarah Saites
(312) 327-4437
Sarah(at)icapip(dot)com
###