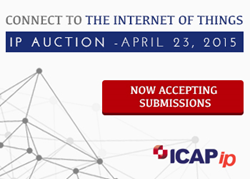 These patents are of great value to online communities and social networks, where the ability to retain privacy encourages membership and participation.
NEW YORK, NY (PRWEB) February 02, 2015
ICAP Patent Brokerage announces for sale patented methods to ensure a user's privacy is maintained while still allowing participation in social networks, available from inventor John W. Ogilvie. This portfolio is offered as part of the Internet of Things IP Auction, with a bidding deadline of April 23rd, 2015.
"These patents are of great value to online communities and social networks, where the ability to retain privacy encourages membership and participation," says Dean Becker, CEO of ICAP Patent Brokerage.
Key Characteristics & Benefits
This portfolio discloses methods of protecting one's 'offline' or 'true' identity while participating in social networking, or any online community. Some of the patented methods help ensure that usernames protect user privacy. A proposed username is accepted only if it satisfies privacy criteria, which are based on the user's personal identification information. The online user may receive questions regarding a proposed username and its relation, if any, to the user's offline identity. The privacy protection system may use a web search engine to help determine whether the proposed username pertains to personal information of the user.
Some of the patented methods help prevent the user's offline identity from being revealed via comments, status updates, chat, email, instant messaging, blogs, forums, and other electronic communications. Electronic communication undergoes privacy review for information regarding offline identity characteristics such as geographic territory, profession, forum discussion topics, gender, marital status, ethnicity, race, age, organization membership, or religious affiliation. A goal of the privacy review is a lowered risk of disclosure of the member's offline identity within the online community. Results of the review are provided to the member, who then has the option of altering the communication.
This portfolio has strong implications regarding personal privacy preservation, online account security, and identity theft protection. In addition to the patented methods, pending applications claim other methods for balancing user privacy with legitimate commercial interests.
Sample forward citing companies include Allstate Insurance Company, Microsoft Corporation, and Kidzui, Inc.
See the technical description of the social networking privacy IP sales offering.
To learn more about the intellectual property available for sale in this portfolio:
Contact Michelle Tyler of ICAP Patent Brokerage at (650) 741-4117 or via email at michelle@icapip.com.
If you have a patent portfolio for sale, visit our website to make a patent portfolio submission for an upcoming sealed bid event.
Follow us on Twitter (@ICAP_IP) and join our LinkedIn group.
About ICAP Patent Brokerage
ICAP Patent Brokerage is the world's largest intellectual property brokerage and patent auction firm, leveraging the talents of experienced patent brokers to match buyers and sellers for the sale of patents and other intellectual property assets. With multiple transaction platforms and unparalleled industry knowledge, including experience with trademarks, brands, intellectual property licensing, and UCC sales, ICAP Patent Brokerage is the global leader in the transaction of intellectual property.
Media Contact
Sarah Saites
(312) 327-4437
Sarah(at)icapip(dot)com