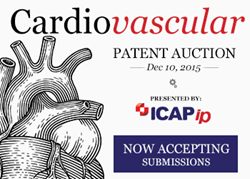 With priority dates from 2002, this portfolio emphasizes a novel stent delivery system with the potential to save countless lives.
NEW YORK, NY (PRWEB) September 23, 2015
ICAP Patent Brokerage announces for sale a patent portfolio disclosing a self-expanding intravascular stent prosthesis with bifurcated guidewire. This portfolio is available from Counter Clockwise, Inc., as part of the 2015 Cardiovascular Auction. The brokerage continues to accept technology submissions for the auction, which will have a bidding deadline of December 10, 2015.
"With priority dates from 2002, this portfolio emphasizes a novel stent delivery system with the potential to save countless lives," said Dean Becker, CEO of ICAP Patent Brokerage.
Key Characteristics & Benefits
This portfolio discloses methods and devices for bifurcated guidewire delivery of multiple stents in the vasculature of a patient. The portfolio also includes procedures, implant delivery tools, and implants for caged stent delivery. The device can be used to position and deliver any type of stent to a preselected treatment site within an intraluminal cavity. The device may include a tubular portion, a plurality of arms attached to the distal end of the tubular portion, and a mechanism to open the arms.
In operation, the caged device carries a stent in a constricted form to the treatment site for deployment. The arms of the cage are then opened, the stent released and deployed, and the device withdrawn. Several methods are provided to open the arms, including self expanding with an outer sheath, pullwires, a piston, an electrolytic joint, and an activator. The arms may be constructed of a shape memory alloy and opened when shape memory behavior is effected. The device may be used with conventional catheters or with a stent-loaded guidewire.
Originally founded in 2000, Counter Clockwise developed tools for interventional neurovascular surgeons and cardiologists. CEO Marc-Alan Levine plans to present these technologies to the public on a live conference call to the market on September 24th, 2015 at 11:00 AM EST. Individuals who wish to listen in or participate anonymously during the call may dial 1-310-971-9099 and are encouraged to submit questions directed to Mr. Levine before the call by emailing Michelle Tyler below.
Forward citing companies include Abbott Laboratories, Biosensors International Group Ltd, Boston Scientific Corporation, C.R. Bard, Inc., Cook Group, Incorporated, E-Pacing, Inc., Delaware, Endologix, Inc., Flexible Stenting Solutions, Inc., Incept LLC, JW Industries, Medtronic Plc, The Cleveland Clinic Foundation, and XTENT, Inc.
See the technical description of the intravascular stent IP sales offering.
To learn more about the intellectual property available for sale in this portfolio:
Contact Michelle Tyler of ICAP Patent Brokerage at (312) 327-4438 or via email at michelle(at)icapip(dot)com.
If you have a patent portfolio for sale, visit our website to make a patent portfolio submission for an upcoming sealed bid event.
Follow us on Twitter (@ICAP_IP) and join our LinkedIn group.
About ICAP Patent Brokerage
ICAP Patent Brokerage is the world's largest intellectual property brokerage and patent auction firm, leveraging the talents of experienced patent brokers to match buyers and sellers for the sale of patents and other intellectual property assets. With multiple transaction platforms and unparalleled industry knowledge, including experience with trademarks, brands, intellectual property licensing, and UCC sales, ICAP Patent Brokerage is the global leader in the transaction of intellectual property.
Media Contact
Sarah Saites
(312) 327-4437
Sarah(at)icapip(dot)com
###