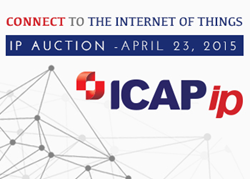 This is a novel way for ticketing agents, promoters, venues, networks, hotels, and airlines to maximize revenue on ticket sales and advertising.
New York, NY (PRWEB) April 15, 2015
ICAP Patent Brokerage announces for sale patents disclosing a means of maximizing profits from stadium seats, advertising, slots, airline seats, hotel rooms, etc., available from inventor Sharad A. Ghosh. This portfolio is offered as part of the Internet of Things IP Auction, with a bidding deadline of April 23rd, 2015.
"This is a novel way for ticketing agents, promoters, venues, networks, hotels, and airlines to maximize revenue on ticket sales and advertising," says Dean Becker, CEO of ICAP Patent Brokerage.
Key Characteristics & Benefits
With a 2005 priority date, this patent portfolio describes a system and method to increase profits from the U.S. sports industry using big data via the issuance of tickets, TV advertisements, and travel bookings tied to the occurrence of specific games — e.g., a Super Bowl matchup between the Giants and the Patriots.
The invention enables each stadium seat, TV advertising slot, airline seat or hotel room to be sold multiple times, depending on the teams or players in a given event, resulting in substantially higher profits compared to the present situation where each seat, slot or room is only sold once. In a preferred embodiment, organizers of an event or a ticket broker may offer a variety of "player's tickets" which allow a sports fan to purchase a ticket in advance that specifically references a team or players rather than a playoff game. Thus, far greater numbers of tickets may be offered at a fraction of the regular price — one for each possible combination of participants — since most tickets will go unused.
This system is mutually beneficial for organizers, ticket brokers and consumers, as it increases overall ticket revenues while allowing sports fans to only buy tickets for games involving their favorite team or player at a discount. Similarly, advertising slots may be sold which are only valid for specific games, enabling advertising slots to better reach their target market (e.g., fans of the team sponsored by these advertisers).
See the technical description of the playoff game ticketing & advertising IP sales offering.
To learn more about the intellectual property available for sale in this portfolio:
Contact Michelle Tyler of ICAP Patent Brokerage at (650) 741-4117 or via email at michelle(at)icapip(dot)com.
If you have a patent portfolio for sale, visit our website to make a patent portfolio submission for an upcoming sealed bid event.
Follow us on Twitter (@ICAP_IP) and join our LinkedIn group.
About ICAP Patent Brokerage
ICAP Patent Brokerage is the world's largest intellectual property brokerage and patent auction firm, leveraging the talents of experienced patent brokers to match buyers and sellers for the sale of patents and other intellectual property assets. With multiple transaction platforms and unparalleled industry knowledge, including experience with trademarks, brands, intellectual property licensing, and UCC sales, ICAP Patent Brokerage is the global leader in the transaction of intellectual property.
Media Contact
Sarah Saites
(312) 327-4437
Sarah@icapip.com
###