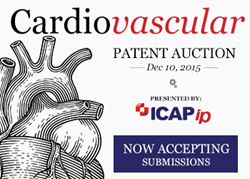 Dr. Wilk is a pioneering innovator in the cardiovascular, ultrasound, and broader medical markets whose contributions to medicine have been adopted by leading companies and practitioners.
New York, NY (PRWEB) September 11, 2015
ICAP Patent Brokerage announces for sale six patent portfolios (including certain associated assets) relating to
coronary artery bypass procedures, endoscopic surgical ports and instruments including endoscopic surgical staplers, trans-catheter ventricular closure implants, and surgical procedures for the minimally invasive removal of organs. These portfolios are available from Dr. Peter J. Wilk, through his various patent holding entities, as part of the Cardiovascular Patent Auction. The brokerage continues to accept technology submissions for the auction, which will have a bidding deadline of December 10, 2015.
Dr. Wilk, now retired from active clinical practice, previously served patients as a general, colon and rectal surgeon at Beth Israel Medical Center, Albert Einstein College of Medicine – Montefiore Medical Center, and State University of New York – Downstate Medical Center, all in New York. Dr. Wilk served as a Major in the United States Army Reserves from 1968 to 1978, and during that time he received much of his clinical training from Cleveland Clinic Hospital and Mt. Sinai Hospital. He received his education from Yale University and New York Medical College. Now, decades later, many of Dr. Wilk's hundreds of medical innovations have been licensed or sold to various entities and implemented in some of the leading medical products on the market today. His innovations, like those licensed to Intuitive Surgical for the da Vinci robotic surgical system, have improved the cutting edge of medical care and blessed the lives of patients all over the world. For more detail, see the curriculum vitae for Dr. Wilk.
"Dr. Wilk is a pioneering innovator in the cardiovascular, ultrasound, and broader medical markets whose contributions to medicine have been adopted by leading companies and practitioners," says Dean Becker, CEO of ICAP Patent Brokerage. "We are honored to help transact his portfolios which have relevance for companies involved in a cardiovascular, endoscopic, and laparoscopic procedures and devices."
Dr. Wilk's cardiovascular-related portfolios include over 25 total patent assets that pertain to heart and vascular surgery, cardiothoracic surgery, coronary artery bypass procedures, endoscopy, laparoscopy, arthroscopy, thorascopy, structural heart disease, interventional cardiology, congestive heart failure, ventricular heart closure, surgical port removal, organ removal, abdominal surgery, and surgical staplers.
Dr. Wilk plans to present these technologies to the public on a live conference call to the market on September 23rd, 2015 at 12:00 PM EST. Individuals who wish to listen in or participate anonymously during the call may dial 1-310-971-9099 and are encouraged to submit questions directed to Dr. Wilk before the call by emailing Michelle Tyler below.
Dr. Wilk has indicated that he is willing to serve as a consultant in providing product design consulting to any entity who acquires his technologies, subject to reasonable and mutually agreeable terms.
The IP sales offerings are as follows, with details available on the site:

Cardio 001 – Coronary Artery Bypass Procedure
Cardio 003 – Trans-catheter Ventricular Closure Implant
Cardio 004 – Endoscopic Surgical Port Instruments
Cardio 005 – Surgical Procedure for Minimally Invasive Removal of Organs
Cardio 006 – Endoscopic Surgical Stapler
Cardio 007 – Surgical Port
Sample forward or rearward citing companies for the portfolios include Abbott Laboratories, Boston Scientific Corporation, C.R. Bard, Inc., Cardiokinetix Inc., Cook Group, Incorporated, CryoLife, Inc., Eclipse Surgical Technologies, Edwards Lifesciences Corp, Johnson & Johnson, Koninklijke DSM NV, Mardil Inc California, Medtronic, Inc., Paracor Medical Inc, Percardia Inc, and Rox Medical, Inc.
To learn more about the intellectual property available for sale in these portfolios:
Contact Michelle Tyler of ICAP Patent Brokerage at (312)327-4438 or via email at michelle(at)icapip(dot)com.
If you would like to sell or auction a patent portfolio, visit our website to make a patent portfolio submission:
http://icappatentbrokerage.com/auction/submitip/
Follow us on Twitter (@ICAP_IP) and join our LinkedIn group.
About ICAP Patent Brokerage
ICAP Patent Brokerage is the world's largest intellectual property brokerage and patent auction firm, leveraging the talents of experienced patent brokers to match buyers and sellers for the sale of patents and other intellectual property assets. With multiple transaction platforms and unparalleled industry knowledge, including experience with trademarks, brands, intellectual property licensing, and UCC sales, ICAP Patent Brokerage is the global leader in the transaction of intellectual property.