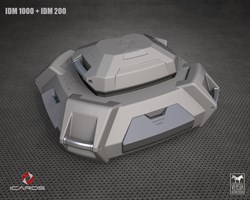 The IDM 1000 system enables...state-of-the-art oblique capabilities for visualization and 3D work...
Rockville, MD (PRWEB) November 13, 2013
Icaros, Inc., a leading provider of advanced aerial remote sensing technology, announces the release of its latest aerial remote sensing system, the Icaros Digital Mapper (IDM) 1000. The IDM 1000 combines Icaros' proven, nadir, single-camera IDM 200 mapping system with an additional four oblique (45 degrees from nadir) cameras, designed for advanced analysis and 3D modeling application needs. Based on the IDM 200, the system is modular and easy to install. Its lightweight simplifies and reduces travel time and costs.
The IDM 1000 improves on other currently available oblique mapping systems through its hybrid camera design that combines an 80MP mapping nadir camera with 39 MP visualization oblique cameras. The modular design allows operators to use the 80MP nadir camera independently for RGB, NIR, and thermal imagery collection projects. Combined with Icaros' advanced image processing software, Icaros Photogrammetric Suite (IPS), the Icaros oblique solution enables customers to produce high-quality, geometric and geospatially-accurate point clouds and 3D models from nadir and oblique imagery.
"The IDM 1000 system enables our customers to collect the high quality mapping imagery they need, while adding state-of-the-art oblique capabilities for visualization and 3D work," said Tom Bosanko, CEO at Icaros. "We are excited as a team to be able to provide a new, best-of-breed solution that maintains Icaros' remote sensing technologies high standards for quality, flexibility and ease of use."
About Icaros
Based in Rockville, MD, Icaros, Inc. is a leading advanced remote sensing services and solutions provider, offering worldwide clients mission-critical imagery and related geospatial data. Since 2004, Icaros has delivered high-quality, precise imagery to some of the largest organizations and governments in the world. The company has developed advanced software for precise, geospatially accurate photogrammetric production.