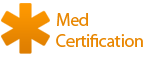 ... a one-year delay will cost the healthcare industry up to $6.6 billion. Other estimates state that postponement will cost hospitals, depending on size, from $500,000 to $3 million each.
Salt Lake City, Utah (PRWEB) April 27, 2014
Congress passed a bill during April, 2014 to give providers another year to comply to the Meaningful Use under the Medicare and Medicaid Electronic Health Records - EHR- Incentive Programs. Med-Certification.com, a medical billing and coding school online, releases information regarding the constant health care changes and the impact on the industry.
The Meaningful Use program provides financial incentives for the "meaningful use" of certified EHR technology. To receive an EHR incentive payment, providers have to show that they are "meaningfully using" their certified EHR technology by meeting certain measurement thresholds that range from recording patient information as structured data to exchanging summary care records. CMS has established these thresholds for eligible professionals, eligible hospitals, and critical access hospitals (CAHs).
The Medicare and Medicaid EHR Incentive Programs include three stages with increasing requirements for participation. All providers begin participating by meeting the Stage 1 requirements for a 90-day period in their first year of meaningful use and a full year in their second year of meaningful use. After meeting the Stage 1 requirements, providers will then have to meet Stage 2 requirements for two full years.
Meaningful use includes both a core set and a menu set of objectives that are specific to eligible professionals or eligible hospitals and CAHs. For eligible professionals, there are a total of 24 meaningful use objectives. To qualify for an incentive payment, 19 of these 24 objectives must be met. For eligible hospitals and CAHs, there are a total of 23 meaningful use objectives. To qualify for an incentive payment, 18 ofthese 23 objectives must be met. This process is done in stages. In addition, they must report clinical quality measures. All this follows the American Recovery and Reinvestment Act of 2009 (ARRA), when Congress mandated that payment adjustments should be applied to Medicare eligible professionals and eligible hospitals who are not meaningful users of Certified Electronic Health Record (EHR) Technology under the Medicare EHR Incentive Program.
Providers now have so many new mandates to comply with that they are hard-pressed to keep up. All of the requirements are expensive, necessitating spending hard-earned dollars to invest in the software/hardware and training to accommodate. That's why cash incentives were offered by the government to help them out. However, there are also penalties. If providers do not demonstrate "meaningful use" criteria this year, then starting October 1, 2014, payments to hospitals would be lowered by a significant percentage and the same is true for professionals, though they had until January 2, 2015.
It appears that the whole package was fraught with difficulty since the medical lobbies convinced Congress to extend the deadlines for a year because of the impending likelihood of lowered payments. The same lobbies, AMA in particular, managed to attach an extension of the ICD-10 Coding implementation date for one year, thereby now deferring it for 10 or so years, while the rest of the world uses it successfully.
In addition to Meaningful Use, Congress passed a fix bill in early April focused on postponing Medicare cuts in reimbursement under the "Sustainable Growth Rate formula," part of the big "cost containment" effort to further complicate the provision of health care. The AMA stepped in and lobbied to throw in the ICD-10 implementation set to take place on October 1, 2014, as a consolation.
The cynical view is that with all the new rules about compliance (including the "meaningful use" mandated for this year), fully implementing the EHR (Electronic Health Record), then adding the ICD-10 process, it boils down as another way of payers not paying providers. Adding 64,000 codes makes the process so complex that providers believe the probability is it will be more difficult to get paid. Many wonder if they will have the time to see patients at all.
Meanwhile, hospitals and clinics are furious about the cost of the delay. Most have invested heavily in the IT required to make it all happen and most are ready or would have been by October 1, 2014. The American Health Information Management Association estimated that a one-year delay will cost the healthcare industry up to $6.6 billion. Other estimates state that postponement will cost hospitals, depending on size, from $500,000 to $3 million each.
Training costs are a serious matter as well. Providers have invested in staff training as well as adding additional coders. In schools, currently there are more than 25,000 students studying to work as medical coders and in those who actually have the updated ICD-10 curricula, many are being trained with only the ICD-10.
The upside is that practices will have more time to learn and prepare for the new coding process. Overworked and often underpaid, physicians will have the opportunity to really get their heads around the taxonomy of ICD-10 and appreciate the improvement over an antiquated coding system. Ultimately, practitioners are responsible for what gets coded and removing that responsibility to coders entirely is not a good idea. For more information on recent legislation in the health care industry, or to learn about ICD-9 and ICD-10 training visit med-certification.com or call 1-888-771-1902.