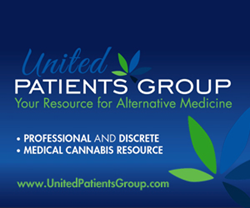 I say to the ALS Association: you have the means, and you recognize the need for a clinical trial—YOU CAN MAKE THIS HAPPEN!
San Francisco, CA (PRWEB) August 28, 2014
The ALS Association's Ice Bucket Challenge has been a viral phenomenon. Celebrities like Bill Gates and Oprah Winfrey—plus millions of regular people—have dumped buckets of ice water over their heads to raise funds and awareness for Amyotrophic Lateral Sclerosis (ALS, aka Lou Gehrig's disease). So far, the campaign has raised $88 million and counting.
United Patients Group, an online resource for medical cannabis information, celebrates the success of the campaign and urges the ALS Association to use a portion of its new funds to carry out a rigorous scientific trial of one of the most promising treatments for ALS: Cannabis.
"ALS is a heartbreaking diagnosis for patients and their families, and we at UPG fully support efforts to improve the lives of people who suffer from ALS," says John Malanca, founder of United Patients Group. "We encourage ALS patients and their families—and the ALS Association itself—to explore medical cannabis as a treatment for this difficult disease."
ALS causes neuro-degeneration between the brain and the spinal cord, resulting in muscle weakness that degenerates into loss of motor control and even paralysis. Over time, patients have more and more difficulty swallowing and speaking, and many pass away from respiratory failure.
There have only been a few studies on the effects of medical cannabis on ALS, but the results are very encouraging, notes United Patients Group.
Here are some of the published results:

Dr. Gregory T. Carter, a clinical professor at the University of Washington who specializes in neuro-muscular diseases, has called cannabis "almost custom-made to treat ALS." He explains, "It dries the mouth up, relieves pain, eases muscle spasms, improves the appetite, and may well have a disease-modifying effect."
Unfortunately, the difficulty of getting funding and permission to study cannabis has slowed the research into its effects on ALS. The ALS association itself has noted, "Whether or not this class of drugs can hold promise for treatment of ALS remains to be demonstrated in a well-designed clinical trial."
"With all the funding and attention gained by the Ice Bucket Challenge, the ALS Association is in an excellent position to carry out a human trial on the effects of cannabis on this terrible ailment," points out Malanca. "I say to the ALS Association: you have the means, and you recognize the need for a clinical trial—YOU CAN MAKE THIS HAPPEN."
For more information about treating ALS with cannabis, go to http://www.UnitedPatientsGroup.com.
About United Patients Group:
United Patients Group is a discreet, safe, and professional online medical cannabis information resource for prospective and current patients, caregivers, and medicinal cannabis industry professionals.
While most online medical cannabis sites cater to patients already familiar with medical marijuana, the UnitedPatientsGroup.com website is a comprehensive and easy-to-use information source for people of all ages and experience levels, from novice users to experienced industry professionals. The site's News, Resource, and Blog pages introduce new patients to the ins and outs of medical marijuana healthcare, while helping experienced providers stay abreast of the latest developments in THC and CBD therapies.
A complimentary five-star-rated United Patients Group medical marijuana app is available on the iTunes app store for iPhone 3GS, iPhone 4, iPhone 4S, iPhone 5, iPod touch (3rd generation), iPod touch (4th generation), and any iPad.