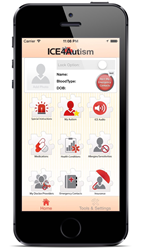 Even if first responders are aware that a person has autism, that does not mean they have the specifics they need to treat them properly
San Diego, CA (PRWEB) April 02, 2015
After months of development, including consultations with individuals on the autism spectrum, their families and treatment providers, ICE4Autism, the only autism-specific in case of emergency mobile app, launched on the App Store on April 2, 2015 to coincide with World Autism Awareness Day.
Wanda Refaely, the app developer, recognized that even if first responders are aware that a person has autism that does not mean they have the specifics they need to treat the person properly. When a few seconds can make a difference in an emergency, the ability to provide information about that particular person quickly and efficiently can dramatically impact the care s/he receives and the awareness necessary to respond appropriately to their unique needs.
Autism is a spectrum disorder that impacts people in different ways. Some autistic people are completely non-verbal while others are particularly expressive; some may be highly noise or light sensitive. There are people on the spectrum who react violently when touched, while others actively seek out hugs and physical contact.
"Telling a first responder, ER doctor or nurse that a person has autism doesn't actually provide much useful information. What they really need to know, for example, is does the person have communication challenges, and if so, what are they. Or, if the person has a sensory issue, how does s/he react when overstimulated and how should they respond effectively. The more the medical staff knows, the better the treatment they can provide," said Refaely.
She explained that with the ICE4Autism app, people on the spectrum have a tool through which to provide first responders with actionable information about themselves quickly and effectively resulting in an improved quality of care.
"With CDC statistics stating that one in 68 children in the US has autism, immediate access to a person's autism-related information alongside their medications, allergies and other in-case-of-emergency information, could positively impact the quality of emergency care that millions of people receive. This app has the potential to make a real difference in real people's lives every single day."
Ultimately, Refaely hopes that the app will provide a comfort to people in the autism community, and will support increased independence and new opportunities.
"Investing the time to enter the person's unique information into the app is key. Having solid, detailed and specific information available directly on their device means that, should the need arise, it's all right there. Emergencies are challenging for everyone, so knowing that an explanation of the person's unique needs are only a "tap" away, can provide peace of mind for the individual and for his loved ones".
About ICE4Autism
ICE4Autism was not developed by a big company, but by a person with a respect and appreciation for the fact each person with autism is unique and has unique needs. The understanding that autism is a highly individual disorder differing dramatically from person to person is at the app's core. Even a few seconds can make a difference in a crisis, so the ability to share specific, individual information quickly and efficiently can have a dramatic impact on the quality of care received and the level of awareness necessary to respond appropriately.