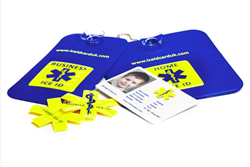 My research into available ICE products showed that none were high visibility, which can prove to be a vital factor in many scenarios.
Colchester, Essex (PRWEB UK) 29 July 2015
In the event of an accident or sudden illness people are at risk of being unable to give important details to first responders, paramedics and doctors; they may be unconscious, they may be confused or they may be in so much pain they cannot speak or think straight. The elderly and people with certain disabilities can be particularly vulnerable at such times and by carrying ICEtell emergency ID, they, and their loved ones can have many of their worries alleviated.
Carrying emergency ID could prove to be a lifesaver for anyone but is particularly beneficial to those with difficulty communicating, as it provides emergency services with vital information that enables them to make important decisions about the emergency treatment they give. Details of allergies, medical history, regular medications and special needs could easily prove to be a matter of life and death, and depending on the patient's state of health, they may not be in a position to give that information to the medical personnel treating them. The right treatment, given immediately, can have a significant impact on the level of recovery, for instance in the case of a stroke.
ICEtell founder, charity worker Trish Binks, was inspired to research the In Case of Emergency (ICE) products on the market after her mother suffered a stroke. "Fortunately I was with mum when she fell ill, and could tell the paramedics everything they needed to know when they arrived, ensuring she received the right treatment within the timescale that prevented irreversible damage. Afterwards, I thought about how different the outcome could have been and my research into available ICE products showed that none were high visibility, which can prove to be a vital factor in many scenarios."
ICEtell's product range is high quality and designed to display pertinent information for first responders. The distinctive colour scheme, blue and yellow on the retro-reflective material, is the most visible on the market and can be seen in dim or dismal conditions, on land or at sea. The range includes the ICEStar, which alerts others to the fact that the holder carries ICE ID and can be attached to a bag, wheelchair, and mobility scooter etc., the ICEPacket, which holds ICE ID cards and has a suction cup so it can hang in the home, or attach to a window or windscreen. The all-important ICE ID Card is the same size as a credit card so it fits easily in a wallet, pocket or bag. Starting at just £4.75 including P&P the range of ICEtell high-visibility ID products and gift cards are available to buy online now.
To find out more visit: icetell.com or call 07734 747854. Carrying ICEtell ID could save lives.
About ICEtell
ICEtell is a for profit UK-based company with a social mission. Currently, £1 from every product sold direct goes to the Stroke Association and other charities are invited to link with ICEtell to raise funds.
All products are designed and manufactured in the UK All components used conform to EU safety standards, the retro reflective material is produced by 3M a leading supplier to the emergency services.