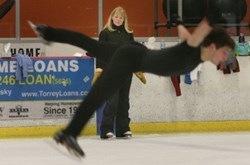 I have trained at some of the most competitive facilities in the country, but Icetown tops them all. Icetown is a place where kids can start learning in a fun environment while having high level athletes from around the World to look up to" - Felicia Beck
Riverside, CA (PRWEB) October 11, 2013
Icetown, which opened its first facility in Riverside, CA in October 1997, is a premiere international training center for competitive figure skating with several top level athletes training at Icetown who represent various countries around the world. Icetown's world class coach Tammy Gambill coaches athletes that represent Hong Kong, Australia, Canada, Philippines, Norway, and Japan. Many of these athletes will compete at the 2014 Sochi Olympic Winter Games. "I have kids coming in to train at Icetown Riverside from all over the world now. I'm teaching kids from Australia, Hong Kong, Japan and Canada to name a few. The Australian boy, Brendan Kerry, just qualified for the Olympics and we couldn't be more proud and excited!" says Gambill.
This is serious business to these young hopefuls, who are skating sometimes five and six days a week to reach their goal of becoming figure skating champions — Olympic champions, or at the very least, to make it to the U.S. Figure Skating Nationals. Upcoming is the 2014 qualifying competition season. Icetown's Richard Dornbush will be attempting to qualify for the 2014 Olympic Games at the 2014 US National Championships in Boston.
In addition to athletes competing to qualify for the Olympics, Icetown has over 30 athletes that will compete on behalf of the All Year Figure Skating Club, at the Regional and Sectional qualifying events. These competitions will determine whether or not they are able to compete at the National and Jr. National competitions in Boston. This is an exciting time for Icetown and figure skating with the Sochi Olympics around the corner. For all figure skating enthusiasts and future Olympic hopefuls and Ice Town offers one time free introductory lessons for boys and girls ages 3 and over. This is a perfect opportunity to learn the basics of skating. First time skaters are encourage to take this free class. Introductory lessons are offered Wednesdays 6:30pm - 7:00pm and Saturdays 11:50am - 12:20pm. Contact Figure Skating Director Felicia Beck for more information.