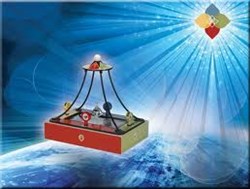 ICHIWAH is quickly becoming one of the most controversial and unique Christmas gift ideas, since the pet rock
(PRWEB) November 12, 2013
Monumental Discoveries, Inc. has begun an online promotion of its ICHIWAH (It Can't Hurt It Will Absolutely Help) Manifestation Kit. The unique Christmas gift idea is based on a premise developed by the company's Founder, Roger Nelson.
"What is one thing that you are currently looking for in life? Are you actively doing everything you can to achieve that goal or simply waiting for fate and luck to determine your destiny? With the ICHIWAH Manifestation Device, you decide your own future. Imagine what it would be like living exactly the life you want ... such a dream is possible with the ICHIWAH device," stated Nelson.
"Like many others in 2007, I was struggling to sell my house. My wife Marie had started a new job in California, and until the house was sold, I could not join her in the move. Our house had been on the market for over five months and despite several Open Houses, there had not been a single offer. Out of sheer hopelessness, Marie and I joked, "The California thing to do would be to place crystals and magnets on the listing agreement. It couldn't hurt and might even help, right?" continued Nelson.
"As our desperation to get the house sold grew, that simple joke started looking better and better. We desperately needed something that would not hurt our efforts, but something that would absolutely help us, and from this came the acronym ICHIWAH – It Can't Hurt It Will Absolutely Help." Concluded Nelson
Though still somewhat of a joke, Roger developed a prototype for the idea of the ICHIWAH with a request to get the house sold. Within ten days, the Nelsons received a call from the realtor – an offer had been made on the house, and within five weeks of that offer, the deal closed.
The ICHIWAH Kit, which certainly falls into the Unique Christmas gift ideas category, comes complete with everything needed to guide the entire manifestation process and is only available in the United States. Complete information about ICHIWAH can be found at http://www.ichiwah.com.
ICHIWAH is a value-centered manifestation device that works with four primary energies - Happiness, Wealth, Purpose, and Adventure. Watch Roger explain how each of the four energies can help anyone manifest the life they desire at: http://www.youtube.com/user/ICHIWAHManifestation
Tom Merkey and Jeremy Howie of Enlightened Marketing, LLC are leading the ICHIWAH marketing campaign through the use of Social Media, Video Marketing, Facebook PPC, and various Local Directories.
About the Company
Monumental Discoveries, Inc. is a Colorado corporation founded in 2005. ICHIWAH® is Made in the U.S.A. and hand-assembled in Fort Collins, Colorado.
This information is being distributed for the client, by Philip Cardwell at Universal Media Consultants. From top magazines to leading TV stations, UMC has been very effective at distilling client's messages in the major national media. The aim is simple. To multiply message impact and client exposure in highly targeted markets, quickly, imaginatively, and cost-effectively. For more information visit: http://www.universal-media-consultants.com