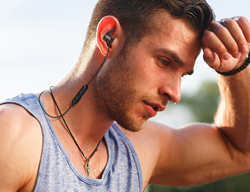 UNION CITY, CA. (PRWEB) May 31, 2017
Today, iClever launches its lightest headphones yet – the BTH20 Sprint Wireless Headphones. Weighing at an astoundingly light 13g, these music mavens deliver everything needed to get adrenaline pumping for the most intense of workouts, without being weighed down by the clumber of wires. The BTH20 Sprint empowers users to experience music that frees them to sprint the distance.
"When we set out to develop the BTH20 Sprint, we did not just aspire to create another pair of Bluetooth headphones. We set out to carefully curate an action-packed auditory experience that truly runs the miles, hikes the heights and lifts the weights with you." said Eric He, CEO of iClever. "That's why our earbuds fit perfectly, boasts audio drivers that delivers your playlist in stunning clarity, and most importantly, don't weigh a thing once you're plugged in."
Drawing inspiration from the human anatomy, the BTH20 Sprint's design is truly iClever. When it comes to design, the BTH20 understands that one size doesn't fit all. That's why the headphones come with ear buds in 3 different sizes. To make it truly fitting, these headphones feature an unique silicon fin that snugly fits the outline of the ear that won't budge even through the sways and the shakes.
These headphones are unapologetically designed for the fitness fanatics, with iClever tuning its 106dB audio drivers to deliver beats that give that extra oomph to your workout. The SprintSound is distinctive, with dynamic acoustics that delivers audio in crystal clear quality, amped up by a wonderfully robust bass that translates into a clean, well-rounded sound that hits all the right notes. The noise isolation effectively blocks out background noise, but does not offer complete noise cancellation to ensure safety when exercising outdoors.
These headphones also boasts seamless connectivity; engineered to recognize and pair with Bluetooth-enabled devices in split seconds. With strong Bluetooth connection that keeps the beats going on and on, it's music with absolutely no interruptions.
Other features include water-resistance which allows users to run through the rain with their favorite beats still playing, a strong 8-hour battery life that goes through a week's worth of workouts, and an inline microphone/remote that allows users to play and pause their music, answer and end calls, and adjust the volume.
More information about the iClever BTH20 Sprint can be found at Amazon.
Availability:
The all-new iClever BTH20 Sprint retails at $31.99, and is available on Amazon today.
About iClever:
Founded in 2010, iClever is a consumer electronics brand that seeks to use the power of technology to push the boundaries of smart living and inspire users to move faster, think outside the box and lead more connected lives. Today, iClever has expanded to a globally recognized brand that has made its mark in 8 countries across 3 continents.
Contact Person: Helen
Tel: +1-510-358-0768
Address: 33442 Western Avenue, Union City, CA
Email: helen@iclever.com
Website: http://www.iclever.com