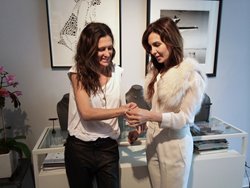 "It's exciting to have innovators in e-commerce focusing specifically on the fine jewelry designer" - Paige Novick
Los Angeles, CA (PRWEB) February 04, 2015
Fine jewelry marketplace Iconery (http://www.iconery.com) announced today that CFDA designer Paige Novick will be the first in a series of prominent jewelry designers to design an exclusive piece of jewelry for sale during its pre-launch campaign. Iconery, launching this spring, is a curated online platform to discover emerging designers.
"It's exciting to have innovators in e-commerce focusing specifically on the fine jewelry designer, and I'm thrilled to be part of Iconery's pre-launch campaign efforts," said Novick.
"Paige has always been on the cutting edge of fashion and jewelry, which is why we felt she would be the ideal inaugural designer," said Andrea Linett, Creative Director of Iconery (and founding Creative Director of Lucky Magazine). "We're excited to offer an exclusive ear cuff in 14k gold and white sapphires from her PHYNE collection. It's this luxe-yet-slightly-edgy piece that embodies the Iconery woman."
In the months leading up to its full e-commerce launch, Iconery will also offer exclusive pieces from other established designers such as TenThousandThings, Janis Savitt, James Colarusso, and Marla Aaron. Jewelry designers interested in participating on Iconery are invited to submit an application here.
About Iconery
Iconery is creating the online destination for fine, on-trend jewelry by attracting emerging and established designers and curating the latest trends. Using advanced technologies such as 3D printers and just-in-time manufacturing processes, Iconery is reimagining the traditional jewelry supply chain to produce personalized pieces within a matter of days. By managing the manufacturing as well as quality control, order fulfillment, and customer support aspects of the production process, Iconery allows jewelry designers more capacity to design and build their brand, and fashion designers to expand into fine jewelry. With Iconery's shop-within-a-shop concept, designers can begin selling their pieces with just a CAD file or complete sketch of their designs, establishing their online presence quickly and at no cost.