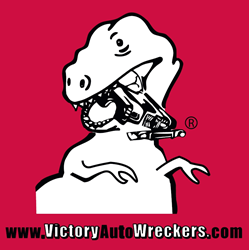 "We're asking the public to recreate the iconic commercial in a novel way," said Jesse Padilla, online marketing manager at Victory Auto Wreckers, "or better yet, come up with an entirely new commercial."
Chicago, IL (PRWEB) January 21, 2015
In 1985, a TV commercial for Victory Auto Wreckers was made showing a man opening a car door, and the car door falls off. In 1991, WGN's Dean Richards became the voiceover artist: "That old car is worth money!" To date, the iconic Chicago commercial has enjoyed a 30 year run and will continue to air across Chicagoland.
Victory Auto Wreckers is celebrating its 70th anniversary and the 30th anniversary of the iconic commercial. To mark the occasion, the company is holding a fun and lucrative contest.
"We're asking the public to recreate the commercial in a novel way," said Jesse Padilla, online marketing manager at Victory Auto Wreckers, "or better yet, come up with an entirely new commercial."
Once a week from Feb. 1 through March 28, a winning video commercial will be chosen, and its "producer" will receive $500.
Here's how:
1. Film and edit your commercial (two minutes maximum)
2. Upload it to your YouTube channel
3. Submit the link to http://www.victoryautowreckers.com/commercial/
Entrants must be age 18 or over to enter, and by entering the contest, entrants allow Victory Auto Wreckers full use of the video entry, winning or not, to be used for commercial purposes on Victory Auto Wreckers' Facebook, Twitter, YouTube, website, etc.
"We are anticipating some very creative video entries," Padilla said.
For more information, visit: http://www.victoryautowreckers.com/commercial/.
Victory Auto Wreckers is a high volume auto recycling facility that processes more than 2,000 tons of crushed cars a month, and more than 12,000 cars are recycled each year. Victory Auto Wreckers purchases unwanted cars 7 days/week, 363 days/year. Thousands of used auto parts are available for customers on the newly paved nine acre auto recycling facility at 710 E. Green St., Bensenville, IL.