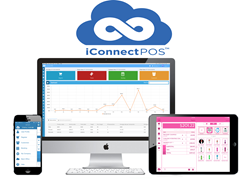 With a mobile-first strategy in mind, iConnect POS simplified the demands of managing the complex IT challenges and costs that exist with traditional point-of-sale. With this latest product suite, we optimized the experience for our customers' needs.
Denver, CO (PRWEB) October 17, 2014
iConnect POS, a leading point-of-sale software solution, has released a new suite of cloud-based payment solutions for Web, iPad and iPhone. The new applications, now available at http://www.geticonnectpos.com or in the Apple App Store, are based on the company's existing successful suite of applications, which have been downloaded by more than 10,000 businesses worldwide. The new iConnect POS apps simplify the complexities of running a business and optimize the use of payment applications for each device, creating a scalable solution that works for small businesses, multi-location businesses and franchises.
"With a mobile-first strategy in mind, iConnect POS set out to simplify the demands of managing the complex IT challenges and costs that exist with traditional point-of-sale, developing the world's first truly cloud-based mobile POS solution to offer a seamless iPhone, iPad and Web-based experience," said Subodh Gupta, founder and president of iConnect. "With this latest product suite, we looked closely at how our customers were using our solutions and optimized the experience around their needs."
The iConnect POS platform is designed for Mac and PC desktops and laptops, iPads and iPhones. The responsive Web application works on any Internet-enabled device including Android tablets. The iConnect team put customer feedback first, correlating the newly-added features and improvements directly with suggestions from the current customer base, including:
iConnect Web POS & Back Office:

Includes a simplified and streamlined Setup Wizard that helps a business get up and running in minutes. Quickly set up stores, select payment methods, connect to printers or PIN pads, and activate merchant services.
The Web POS Back Office features dashboards for easy navigation and access to a business' most important information. A new Resource Center provides direct access to hardware and credit card processing, as well as iConnect's award-winning support center.
The Web POS Back office now includes extensive multi-location management capabilities for corporate and franchise-based businesses.
iConnect iPad POS:

New user interface streamlines the checkout process to keep lines moving while building better customer profiles.
New register and inventory features include product attributes and modifier capabilities; the ability to open tabs or put items on hold.
Now the first cloud mPOS system with customizable color themes and language.
Full access to the Web Back Office allows even complex businesses to operate from a mobile device.
Set customized log in permissions for employee, management, and store access levels.
iConnect iPhone POS:

Design and functionality mirror the iConnect POS iPad app, allowing greater mobility.
"With a single-user license, any employee can seamlessly switch between the Web, iPhone and iPhone experience," continued Gupta.
The launch follows the completion of a successful beta with more than 100 of iConnect's existing customers. Customers praised iConnect POS for its ease of use, valuable features and responsive support team.
"iConnect POS is critical to running my business," said Lee Doran, owner of UK-based Sports Injury Clinic. "With this new product suite, iConnect has gone above and beyond, delivering real time reporting, helping me stay organized and allowing me to build better relationships with my customers."
iConnect POS is the first mPOS application to offer personalized themes and multi-language support, is EMV-compatible and supports multi-location businesses and franchises. iConnect POS provides merchants with consolidated services, including inventory tracking, employee management, real-time reporting, CRM, email and text message marketing. It also supports online booking and appointments, appointment reminders and confirmations, memberships and loyalty programs.
New payment processor partnerships offer merchants integrated payment services, same-day approval, flat rate processing, and a free credit card reader. With iConnect's simplified interface and quick set-up, new businesses can get started in as quick as a single day.
"iConnect has dramatically improved the way we run our business," said Jared Hickman of Utah-based Renaissance Academie. "What I appreciate most are all of the extra features, which allow me to do more than anticipated, including the ability to add unlimited number of customers and a product catalog that makes selling and tracking inventory a breeze."
With this rollout, iConnect POS has also launched a new website at http://www.geticonnectPOS.com, where businesses worldwide can sign up for a free 15-day trial.
About iConnect POS (http://www.geticonnectpos.com)
iConnect is a leading point-of-sale software solution that simplifies the demands of running a business. iConnect offers simple, yet intuitive Web, iPad and iPhone POS applications for retail stores, salons, quick serve restaurants, kiosks, multi-location businesses and franchises. iConnect's revolutionary cloud POS application can be customized to be as simple or sophisticated as needed, making it the first iPad POS to rival traditional and enterprise point-of-sale systems.