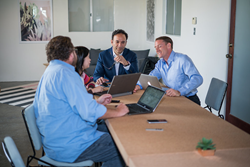 Most offices can save several thousand dollars a year by paying for licenses they're actually using instead of flat rates.
Washington, DC (PRWEB) October 24, 2016
iConstituent, the leader in government constituent management relationship (CRM) software, today announced a new subscription pricing solution with variable seat licensing.
"We're happy to be strong advocates for per-user pricing instead of flat rates, along with leading business SaaS products," said iConstituent CEO Zain Khan. "Our customers are innovators and they expect to pay for use. The market is moving away from one-size-fits all pricing plans to plans that provide flexibility and the ability to better manage overhead. Most offices can save several thousand dollars a year by paying for licenses they're actually using instead of flat rates."
Khan said iConstituent's growing roster of government customers across the U.S. have a wide range of adoption of software products, with some using automation only in constituent services, and others embracing CRM tools for communications and policy work as well. The company recently released a suite of tools for digital communicators in government through the iConstituent eNewsletter Plus product.
"We work with a wide range of agencies and also large legislative bodies," Khan said. "They all share similar needs and challenges -- and clear per-user pricing helps them get the most out of our software at the best possible price."
iConstituent's government CRM includes features for issue tracking - such as a new Email Threading feature that brings all correspondence related to a constituent case into one place - as well as a basic e-newsletter and tools for sorting incoming email. Users say they save hundreds of hours a year by taking advantage of iConstituent's ability to automatically group incoming emails by content - such as sorting petition responses - and attach the appropriate tailored response to each constituent.
Jeff Green, iConstituent's CTO, said customer feedback has continued to push the company further. "We were the first company to bring constituent e-newsletters to the Capitol back in 2003 - but being first only matters if you keep that edge," Green said. "Along with better incoming email handling in their CRM, one big change our customers asked for is flexible pricing. The new plans make it easier for folks to get started, and for us to grow together."
iConstituent's CRM is built specifically for government, at the local, state and federal level. The company has offices in Los Angeles, Seattle, and Washington, DC. Its other product offerings include telephone town hall meetings and web hosting.