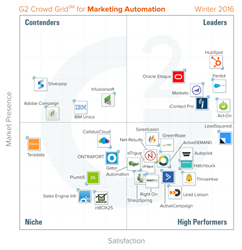 Professionals have recognized iContact Pro as a Leader in the Marketing Automation industry," said Ben Legman, Director of Content and Research, G2 Crowd
Morrisville, NC (PRWEB) January 22, 2016
G2 Crowd, the world's leading B2B software industry review site, released its Winter 2016 Grid for Marketing Automation this week; iContact's marketing automation product, iContact Pro, received the distinguished Leader recognition based on the power of positive user reviews.
iContact Pro received top billing as a result of its large market presence and high customer satisfaction score; 94 percent of users rated iContact Pro four or five stars. The product's future looks bright with 87 percent of users willing to recommended it to a friend, moreover 88 percent believe iContact Pro is moving in the right direction.
According to reviews, iContact Pro's social features were rated among the highest in the category, outshining brands such as HubSpot, Pardot, Act-On, Marketo and Eloqua. Other highly rated features were iContact Pro's analytics tool, as well as the outbound email component that received an average user satisfaction score of 90 percent – upholding iContact's proven reputation as a leading email marketing provider. Scoring high for email message deliverability is nothing new to iContact, also named as a Leader in G2 Crowd's most recent Email Marketing Grid.
"Professionals have recognized iContact Pro as a Leader in the Marketing Automation industry," said Ben Legman, Director of Content and Research, G2 Crowd. "High-levels of customer satisfaction were a key factor driving iContact Pro into the Leaders category. Users found the social media management capabilities particularly powerful, rating them among the highest in the category."
According to G2 Crowd, another standout fact was that iContact Pro was well received by companies of all sizes including specifically, small businesses (56% at companies of 50 employees or fewer). Serving hard-working small businesses and nonprofits is a longtime source of differentiation and pride for iContact, since its establishment in 2003.
"iContact Pro is one of the most complete marketing automation tools in the industry, yet we've designed it to be simple to implement, affordable and easy-to-use so that any marketer, no matter their business segment or size, can use it to grow. We're thrilled that our valued customers agree and we look forward to continually helping them get amazing results," said Geoff Alexander, President, iContact.
To read G2 Crowd's full report, click here. For more information on iContact's products and services, including iContact Pro, please visit http://www.iContact.com, or register for a free product demo here.
About iContact
Since 2003, small and medium businesses and nonprofits worldwide have achieved significant results by turning to iContact's best-in-class email marketing and marketing automation solutions. Our customers love our scalable products and knowledgeable team; together, they ensure everyone, from beginners to large senders, have what they need to grow. Based in Morrisville, NC, iContact is an award-winning email marketing company in the Cision family of brands. Follow us @iContact.