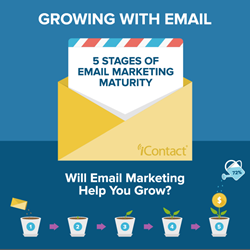 46% of subscribers mark emails as spam if they're emailed too often. Source: TechnologyAdvice.com
Morrisville, NC (PRWEB) January 29, 2016
Are businesses and nonprofits doing everything they can to ensure their email marketing efforts are helping them grow? All marketers are invited to take a look at iContact's most recent infographic for strategies on how to move their email efforts along the path to success. MarketingSherpa reports that 72% of consumers say email marketing is the number one way they want brands to communicate with them. From permission to segmentation to automation – iContact customers are learning that making small adjustments to their email campaigns can go a long way.
In an effort to help marketers determine how mature their email marketing efforts are as compared to other marketers, the company's new infographic asks several important questions, including:

Are you blasting too many messages?
Are you asking subscribers for their opt-in permission?
Are you optimizing your messages for mobile devices?
Are you segmenting contacts by personas?
Have you run tests to determine the right amount of email to send?
Have your lead scoring rules been cleared by sales?
An iContact Webinar for Success
iContact is offering a free webinar featuring author and marketing strategist, John Hayes: Marketing 2016 — Hitching a Ride Ahead of the Curve, February 2, 2016 at 2:00 p.m. EST. Hayes will be exploring how marketing automation, mobile optimization, and content marketing can propel and keep small businesses ahead of today's marketing challenges.
Hayes will also be available after the live webinar to answer attendee questions. All registrants will be emailed a copy of the presentation after the event.
About iContact
Since 2003, small and medium businesses and nonprofits worldwide have achieved significant results by turning to iContact's best-in-class email marketing and marketing automation solutions. Our customers love our scalable products and knowledgeable team; together, they ensure everyone, from beginners to large senders, have what they need to grow. Based in Morrisville, NC, iContact is an award-winning email marketing company in the Cision family of brands. Follow us @iContact.