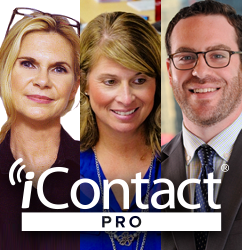 We're already seeing an increase in conversions to our website.
MORRISVILLE, N.C. (PRWEB) June 16, 2016
A year after its initial launch, iContact Pro is allowing more businesses than ever to connect quickly and effectively with their target audiences. Customers of all experience levels are seeing maximized results with the advanced email marketing functionality that iContact Pro provides.
"iContact Pro's workflow feature has made an enormous difference in how we manage our education courses that we provide on a national level," said Suzi Klimek, Executive Director of Corporate Marketing at Surestep and first-time iContact user. "In-depth reporting lets us drill down to a really detailed level to find out exactly who we're sending to, and adjust which email they receive based on their responses."
Based on customer feedback, iContact recognized marketers were facing an increasingly noisy digital space and needed software that segments audiences and helps tailor emails based on which messages are most likely to generate results. After using iContact Pro, customers are seeing the benefits of increased personalization and email marketing automation capabilities.
For Hofstra School of Law located on Long Island, these personalization and email marketing automation tools provide a significant advantage in a competitive industry.
"The school that can make a lasting impression – actually build a relationship with a student – usually wins at decision time," said Andrew Berman, Assistant Dean of Communications at Hofstra Law. "The more we customize, the better our email engagement – the better our engagement, the more likely it is that a student will decide to attend Hofstra Law School."
Along with iContact Pro's advanced tools and resources, long-term iContact customers are noticing the brand's same characteristic top-quality customer service.
"The great thing about having a Premier Strategic Advisor on my side is that I have someone who is worrying about our goals and all those little deliverability details for me, so I can just focus on the information I want to share," said Lorraine Porto, president of Adenta USA and iContact customer of five years. "We're already seeing an increase in conversions to our website."
About iContact
Since 2003, small and medium businesses worldwide have achieved significant results by turning to iContact's best-in-class email marketing solutions and knowledgeable team members. Made scalable to serve the needs of high-volume senders, professional marketers, and businesses new to email, iContact's easy-to-use technology, available in both English and Spanish versions, ensures that every customer has what they need – whenever they need it – to succeed. Located in Morrisville, N.C., iContact is an award-winning company in the Cision family of brands, receiving recognition from TopTenReviews, Salesforce AppExchange and G2 Crowd.
###