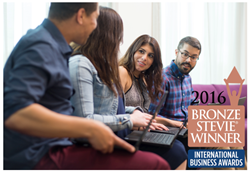 MORRISVILLE, N.C. (PRWEB) August 16, 2016
iContact was named the winner of a Bronze Stevie® Award in the Customer Service Team of the Year category in The 13th Annual International Business Awards. A record total of more than 3,800 nominations from organizations of all sizes and in virtually every industry were submitted this year for consideration.
The award recognizes iContact for their outstanding customer service team, specifically as it relates to the company's latest product, iContact en Español. The product offers a complete Spanish-language email marketing experience — everything from a fully translated email marketing product to Spanish-language technical support, as well as marketing and training materials.
"iContact thrives on helping our customers succeed," said Geoffrey Alexander, President of iContact. "For us it's way more than just offering great software. It's about helping a business reach their goals. This fantastic award reflects our ability to break down language barriers, deliver exceptional service on a global level and give our amazing customers the results they deserve. This emphasis on globalization has also extended to our staff – in Q2 alone, 70% of our new hires across every service department were bi-lingual."
The launch of iContact en Español in May, which rendered iContact the only US-based Email Service Provider (ESP) to provide a fully immersive Spanish-language experience during the entire buyer lifecycle, is a prime example of the dedication and innovation that iContact is known for when it comes to providing outstanding customer service.
"Our team is constantly pushing to improve the scope and quality of our customer service offerings," said Josh Tracy, iContact's Vice President of Customer Operations. "Customers notice when you go the extra mile, and they let you know their approval with a positive customer satisfaction rating — recently, ours reached a daily high of 100%. This Stevie Award is another great reflection of the passion and dedication of our world-class team, which strives to consistently exceed customer expectations regardless of language or location."
Details about The International Business Awards and the lists of Stevie Award winners are available at http://www.StevieAwards.com/IBA.
About iContact
Since 2003, small and medium businesses worldwide have achieved significant results by turning to iContact's best-in-class digital marketing solutions and knowledgeable team members. Made scalable to serve the needs of high-volume senders, modern marketers, and businesses new to email, iContact's easy-to-use technology, available in both English and Spanish versions, ensures that every customer has what they need – whenever they need it – to succeed. Located in Morrisville, N.C., iContact is an award-winning company in the Cision family of brands, receiving recognition from TopTenReviews, Salesforce AppExchange and G2 Crowd.
About the Stevie Awards
Stevie Awards are conferred in seven programs: the Asia-Pacific Stevie Awards, the German Stevie Awards, The American Business Awards, The International Business Awards, the Stevie Awards for Women in Business, the Stevie Awards for Great Employers, and the Stevie Awards for Sales & Customer Service. Stevie Awards competitions receive more than 10,000 nominations each year from organizations in more than 60 nations. Honoring organizations of all types and sizes and the people behind them, the Stevies recognize outstanding performances in the workplace worldwide. Learn more about the Stevie Awards at http://www.StevieAwards.com.