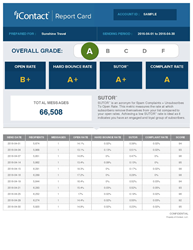 I'm unaware of any other email service provider measuring engagement this way.
MORRISVILLE, N.C. (PRWEB) June 10, 2016
iContact, an award-winning email marketing service, has launched a new metric to help email marketers measure the effectiveness of email campaigns, beyond conventional metrics. This new engagement focused metric, called SUTOR, compares the amount of unsubscribes and spam complaints to the open rate.
SUTOR is an acronym for Spam complaints and Unsubscribes To Open Rate. While email marketing services track those three metrics individually, iContact intertwines them to create an overall snapshot of how emails are performing. Achieving a low SUTOR rate is an indicator that the subscribers are receiving the emails they expect to get, thereby reiterating that the sender is providing compelling content at the desired level of frequency.
"The framework of SUTOR is very simple, consisting of spam complaints and unsubscribes divided by unique opens," explained Justin Frechette, Deliverability Analyst at iContact. "However, what makes it unique is our proprietary scale of measures for metric and weight. I'm unaware of any other email service provider measuring engagement this way."
Frechette will be available at the Messaging, Malware and Mobile Anti-Abuse Working Group (M3AAWG) General Meeting on June 13 to elaborate further on SUTOR as a new metric and provide additional insight, as well as showcase sample "iContact Report Cards." The SUTOR rate is one of the metrics that make up iContact's Report Card, available to iContact Premier Customers. This Report Card also includes open rate, hard bounce rate and complaint rate, and reflects the customer's overall "grade" for their email marketing campaign.
"iContact is committed to helping our customers ensure they have an engaged and loyal group of subscribers, and SUTOR enables us paint a better picture of the quality of their efforts," said Geoffrey Alexander, President of iContact. "Though deliverability rate has been consistently used by email marketing services to measure success, the SUTOR rate helps provide customers with a way to check if subscribers are actually engaged with their content."
About iContact
Since 2003, small and medium businesses worldwide have achieved significant results by turning to iContact's best-in-class email marketing solutions and knowledgeable team members. Made scalable to serve the needs of high-volume senders, professional marketers, and businesses new to email, iContact's easy-to-use technology, available in both English and Spanish versions, ensures that every customer has what they need – whenever they need it – to succeed. Located in Morrisville, N.C., iContact is an award-winning company in the Cision family of brands, receiving recognition from TopTenReviews, Salesforce AppExchange and G2 Crowd.
###