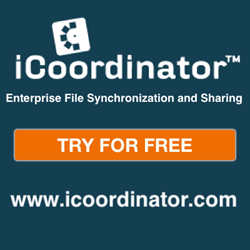 Our options are different than other existing products within EFSS, and we are only targeting businesses. iCoordinator is suitable for every business from small to large corporations. -Patrik Svanerudh, CEO
Luleå, Sweden (PRWEB) March 14, 2016
A cloud-based solution safer and better adapted to both small and large businesses. That is the main advantage of the new iCoordinator, an Enterprise File Synchronization and Sharing (EFSS) solution developed by the Swedish company, Designtech Solutions.
"A new generation platform, more business-oriented than many other File Synchronization and Sharing solutions", says Patrik Svanerudh, CEO of Designtech Solutions AB in Luleå. Sweden.
Designtech Solutions is a company in northern Sweden now challenging giants like Dropbox and Google Drive. It is with iCoordinator, a cloud-based File Synchronization and Sharing platform newly developed by the Luleå based company.
MANY BENEFITS
iCoordinator advantages:

It provides a cloud-based secure file management solution with mobility and collaboration capability for users.
It facilitates file synchronization to native file explorers of Windows & Mac OS X.
It allows users to easily and safely share files with internal and external users.
With the mobile apps, users are able to access their files any time from anywhere.
It organizes files in a better way with labels and smart folders.
The enterprise level of permission control enables businesses to prevent the critical business information from being shared without any control.
Users can upload files over email into the system.
Gives businesses the power to chose where the business data is stored with the hybrid cloud option.
OEM possibilities allowing other solution providers to take advantage of iCoordinator by integration it with their existing solutions.
Europe based solution provider ensuring a world-class product.
FOR ALL COMPANIES AND ORGANIZATIONS
With iCoordinator, any business that needs to store and share files with the internal users, customers and suppliers get a cloud-based secure document and file management, version management, offline synchronization possibilities and labels that allow documents and files that can be arranged according to various criteria in smart folders.
With support for viewing hundreds of file formats online, arranged in a familiar structure for easy navigation and access possibility from different devices, businesses can create, store, share and collaborate on files in a secure way.
TAILOR-MADE FOR BUSINESS
"Our options are different than other existing products within EFSS, and we are only targeting businesses. iCoordinator is suitable for every business from small to large corporations", says Svanerudh.
"We already experienced a strong interest in the new product and see companies around the world as potential customers. We are optimistic about the future", he says.
In order to ensure that all sizes of business can utilize the solution, iCoordinator comes in three different editions, Basic, Business and Enterprise.
BORDERLESS COLLABORATION
Designtech Solutions was established in 1999 and is based in Luleå, Sweden. The company's vision is to create conditions for a borderless and successful collaboration by providing cloud-based collaborative document and project management solutions on a global B2B market.
The company's existing innovative web-based collaboration solutions are used by businesses and government agencies around the world.
More info:
Patrik Svanerudh, CEO,
Designtech Solutions AB
Phone: +46 70-553 97 81
Email: patrik.svanerudh(at)designtech(dot)se
http://www.designtech.se