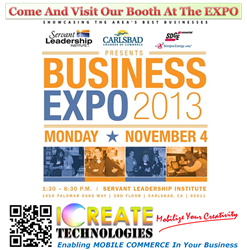 Enabling Mobile Commerce is no longer an option but an absolute necessity for businesses as the consumer base shifts rapidly from print, media and desktop computers to mobile phones.
Carlsbad, CA (PRWEB) October 29, 2013
The Carlsbad Chamber of Commerce will be hosting the annual Expo to showcase local businesses on November 4th, 2013 between 1:30 pm and 6:30 pm, and ICREATE Technologies is registered as the only exhibitor showcasing products and services for the expanding Mobile Commerce market segment.
"This is our first major prestigious event and we are visibly excited to participate and showcase our products and services to enable Mobile Commerce in local businesses," said Neeta Ghosh, Managing Partner at ICREATE Technologies. "We will be officially announcing two new technology services intimately related to our 'mPEARL' Mobile Commerce enablement methodology to small and medium sized businesses in a variety of verticals, now that these services have passed rigorous tests with flying colors. We will be able to position ourselves as a full service Mobile Commerce enablement company after this technology is made public."
The company is also presenting at the Carlsbad Chamber of Commerce First Friday Breakfast on November 1st, 2013, to raise awareness about Mobile Commerce to other Chamber businesses as a prelude to the announcement during the Expo. With the two new technology services, ICREATE Technologies will be able to offer an actual Mobile Commerce enablement and implementation platform for the SMB market, following the guidelines of 'mPEARL' - our service marked Mobile Commerce enablement methodology.
Businesses who sign up for our Mobile Commerce enablement consulting and/or technology services will be extended generous discounts that will be available only during the Expo.
ICREATE Technologies LLC based in Carlsbad, CA is focused entirely on enabling Mobile Commerce in small and medium sized businesses. We offer Mobile Commerce Consulting, design Mobile Websites duly optimized for Mobile Search Engines and also offer a feature rich Mobile Marketing platform that enables our clients to reach 100% opt-in subscribers directly on their cellphones with marketing and information messages and leverage the Voice of the Customer to derive intelligence for making dynamic and better business decisions. We combine our 'mPEARL ' Mobile Commerce methodology with our technology to offer an effective and viable strategy for small and medium sized businesses to significantly reduce costs, increase brand awareness and increase revenues, consequently improving their bottomline.