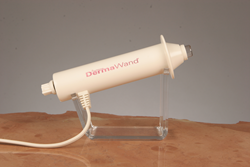 Richard Ransom, President, stated "Now that we own the DermaWand trademark, with over $25 million in marketing dollars spent building this brand worldwide, we intend to utilize this asset to build additional brands and line extensions.
Wayne, PA (PRWEB) January 26, 2016
ICTV Brands, Inc. (OTCQX: ICTV), (CSE: ITV), a digitally focused direct response marketing and international branding company is pleased to announce it has acquired the worldwide ownership of the DermaWand patent and all related trademarks.
Under the Purchase Agreement entered into on January 22, 2016 with Omega 5 Technologies, Inc. ("Omega"), ICTV has acquired the DermaWand patent and all related trademarks for the sum of $1,200,000 paid out as follows: $300,000 per year for calendar years 2016 through 2019, payable in uniform quarterly installments on or before the last day of each calendar quarter. There shall be no interest charged, and ICTV may, in its sole discretion, at any time without permission or penalty pre-pay some or all of the purchase price.
As per the original licensing agreement with Omega, ICTV had been assigned the patents, related trademarks, and exclusive commercial rights to DermaWand as long as its minimum annual royalty requirements were met. The amount of royalty expense incurred for sales of the DermaWand was approximately $1,159,000 and $1,018,000 for the years ended December 31, 2014 and 2013, respectively, and $591,000 for the nine months ended September 30, 2015.
Kelvin Claney, CEO and Chairman, stated "After over fifteen years of working with Omega, we are delighted to have reached this agreement whereby ICTV now officially owns the DermaWand brand outright. We are confident that the buyout will bring us considerable financial flexibility as we continue to grow DermaWand both domestically and internationally into various sales channels. Owning both the patent and trademarks is a significant asset for our Company, and we're excited for DermaWand and ICTV's continued growth."
Richard Ransom, President, stated "Now that we own the DermaWand trademark, with over $25 million in marketing dollars spent building this brand worldwide, we intend to utilize this asset to build additional brands and line extensions. We have already begun this process with our new pedicure device we have branded, the Ultimate Pedi by DermaWand, which we are set to launch domestically and internationally in the beginning of February. We are also progressing towards the second generation DermaWand unit, which we believe will be ready later this year with a new design and more power. Additionally, as we have discussed in prior investor calls, we are closer to opening up new major markets internationally, as well as creating additional revenue streams domestically through our digital marketing and e-commerce efforts. As Kelvin mentioned, the flexibility brought by the purchase agreement will bring significant cost savings and more profitable sales channels in 2016 and beyond."
ICTV Brands, Inc.
ICTV Brands, Inc. sells various health, wellness and beauty products through a multi-channel distribution strategy. ICTV utilizes a distinctive marketing strategy and multi-channel distribution model to develop, market and sell products through direct response television (DRTV), Internet/digital, e-commerce, live television shopping and retail. Its products are primarily sold in the U.S. and available in over 60 countries. Its products include DermaWand, a skin care device that reduces the appearance of fine lines and wrinkles, and helps improve skin tone and texture, DermaVital, a professional quality skin care line that effects superior hydration, the CoralActives brand of acne treatment and skin cleansing products, and Derma Brilliance, a sonic exfoliation skin care system which helps reduce visible signs of aging, Jidue, a facial massager device which helps alleviate stress, and Good Planet Super Solution, a multi-use cleaning agent. ICTV Brands, Inc. was founded in 1998 and is headquartered in Wayne, Pennsylvania
Forward-Looking Statements
Forward-Looking Statements. This press release contains "forward-looking statements" within the meaning of Section 27A of the Securities Act of 1933, as amended, and Section 21E of the Securities Exchange Act of 1934, as amended (the "Exchange Act") (which Sections were adopted as part of the Private Securities Litigation Reform Act of 1995). Statements preceded by, followed by or that otherwise include the words "believe," "anticipate," "estimate," "expect," "intend," "plan," "project," "prospects," "outlook," and similar words or expressions, or future or conditional verbs such as "will," "should," "would," "may," and "could" are generally forward-looking in nature and not historical facts. These forward-looking statements involve known and unknown risks, uncertainties and other factors which may cause the Company's actual results, performance or achievements to be materially different from any anticipated results, performance or achievements. The Company disclaims any intention to, and undertakes no obligation to, revise any forward-looking statements, whether as a result of new information, a future event, or otherwise. For additional risks and uncertainties that could impact the Company's forward-looking statements, please see the Company's Annual Report on Form 10-K for the year ended December 31, 2014, including but not limited to the discussion under "Risk Factors" therein, which the Company has filed with the SEC and which may be viewed at http://www.sec.gov.
Contact Information
Rich Ransom
ransom(at)ictvbrands(dot)com
484-598-2313
Ryan LeBon
lebon(at)ictvbrands(dot)com
484-598-2300, x318