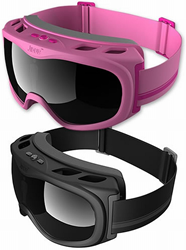 Rich Ransom, President of ICTV Brands, stated, "In the six years I have been at ICTV, I have never been more excited about our future. Our team has worked extremely hard over the past several months to get our new brands ready for market.
Wayne, PA. (PRWEB) September 30, 2014
ICTV Brands, Inc. (ICTV), (CSE:ITV), a direct response marketing and branding company focused on the health, wellness and beauty sector, announced today that three new brands; Jidue, CoralActives, and Derma Brilliance are ready for marketing.
Jidue is a facial massager that works through 18 uniquely positioned pulsating nodes, which stimulates the 4 key pressure points around the eye to increase facial blood circulation and lymph flow. It is designed to help alleviate eye fatigue, pain, stress and sinus pain. The massager helps relax the face and alleviates facial tension and stress which helps promote a better night sleep. For more information about Jidue, please visit http://www.jidue.com.
ICTV Brands began testing a two minute spot in the United States the week of September 8th. The initial results are very encouraging with the first week's revenue exceeding $13,000 with an average order value of over $150. In addition to testing Jidue in the United States, last week we launched a small test of the two minute spot in Canada. ICTV's management also recently returned from the Electronic Retailing Association's D2C convention in Las Vegas, where we had the opportunity to present Jidue to 40 international distributors. The response was overwhelmingly positive and we expect to test Jidue through some of these distributors overseas before the end of 2014.
CoralActives is a new product in the acne treatment and skin cleansing market. CoralActives contains over two times the active acne fighting ingredient, benzoyl peroxide, of the leading brands, while combining the natural anti-inflammatory benefits of sea whip coral extract. Sea Whip Coral is a soft coral found in the Caribbean. It provides a very potent natural anti-inflammatory extract that is safe, effective and environmentally friendly. ICTV Brands recently re-launched the CoralActives website, which is now built to allow customers to enroll in an auto ship continuity program. A direct to consumer radio campaign is scheduled to begin on Monday, October 6th. For more information about Coral Actives, please go to http://www.coralactives.com.
Derma Brilliance is a cosmetic system in the growing skin-polishing sector of the skin-care device market. Derma Brilliance will constitute a "razor/razor blade continuity model" led by a hand held rechargeable device and optimized by a consumable micronized diamonds and garnets skin cream formula, both of which are patented. The first test of the infomercial is scheduled for the weekend of November 1st.
In addition to the new product launches, there are some exciting new tests coming for our flagship product DermaWand. For the first time this week, a French version of the DermaWand infomercial will begin airing in the province of Quebec. In mid-October, ICTV will begin testing a brand new Spanish language infomercial that was produced over the summer. The test of this show will be the first time DermaWand will be aired in the US Hispanic market 100% in Spanish without dubbing. Finally, ICTV has received its first purchase order from a major US drugstore chain. Shipment of the DermaWand into retail will happen in early October.
Rich Ransom, President of ICTV Brands, stated, "In the six years I have been at ICTV, I have never been more excited about our future. Our team has worked extremely hard over the past several months to get our new brands ready for market. In addition to the launch of our new brands launch, I believe DermaWand is poised to see new success in US retail and new markets all around the world as we head into the 4th quarter."
ICTV Brands, Inc.
ICTV Brands, Inc. sells various health, wellness and beauty products through a multi-channel distribution strategy. ICTV utilizes a distinctive marketing strategy and multi-channel distribution model to develop, market and sell products through direct response television (DRTV), Internet/digital, e-commerce, live television shopping and retail. Its products are primarily sold in the U.S. and available in over 35 countries. Its product include DermaWand, a skin care device that reduces the appearance of fine lines and wrinkles, and helps improves skin tone and texture; DermaVitál, a professional quality skin care range that effects superior hydration; CoralActives, a line of acne treatment and skin cleansing products. ICTV Brands, Inc. was founded in 1993 and headquartered in Wayne, Pennsylvania.
Forward-Looking Statements
Forward-Looking Statements. This press release contains "forward-looking statements" within the meaning of Section 27A of the Securities Act of 1933, as amended, and Section 21E of the Securities Exchange Act of 1934, as amended (the "Exchange Act") (which Sections were adopted as part of the Private Securities Litigation Reform Act of 1995). Statements preceded by, followed by or that otherwise include the words "believe," "anticipate," "estimate," "expect," "intend," "plan," "project," "prospects," "outlook," and similar words or expressions, or future or conditional verbs such as "will," "should," "would," "may," and "could" are generally forward-looking in nature and not historical facts. These forward-looking statements involve known and unknown risks, uncertainties and other factors which may cause the Company's actual results, performance or achievements to be materially different from any anticipated results, performance or achievements. The Company disclaims any intention to, and undertakes no obligation to, revise any forward-looking statements, whether as a result of new information, a future event, or otherwise. For additional risks and uncertainties that could impact the Company's forward-looking statements, please see the Company's Annual Report on Form 10-K for the year ended December 31, 2013, including but not limited to the discussion under "Risk Factors" therein, which the Company has filed with the SEC and which may be viewed at http://www.sec.gov.
Contact Information
ICTV Brands
Rich Ransom
ransom(at)ictvbrands(dot)com
484-598-2313
Hayden IR
hart(at)haydenir(dot)com
917-658-7878
Kirk Gamley
Contact Financial Corp.
Phone: 604-689-7422
E-mail: kirk(at)contactfinancial(dot)com