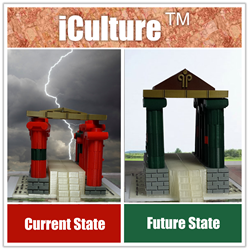 In my 24 years as a kaizen sensei for Fortune 100 organizations, I have never seen a product address culture as iCulture™ does – Adil has truly revolutionized the approach to culture assessment and transformation ~ Geoffrey Mika
Austin, TX (PRWEB) April 17, 2015
The 27th Annual Shingo Conference will be held in Provo, Utah from May 4-8. One of the pre-conference workshops, 'iCulture™: A Visual Approach to Demystifying and Enhancing Your Corporate Culture', will be facilitated by Adil Dalal, the CEO of Pinnacle Process Solutions, Intl®, LLC, on May 5 from 1-5 pm. The Annual Shingo Conference is hosted by the Shingo Institute, whose mission is to guide leaders in creating sustainable, principle-based cultures of excellence. iCulture™ is a state-of-the art simulation approach to help organizations accurately visualize their existing culture, understand the impact it has on the employees and customers and develop a practical plan for a dynamic culture transformation.
Mark Baker, the Executive Director of the Shingo Institute says, "The Shingo model is based on a new ways of thinking and it is exciting to have past Shingo Award winners like Adil Dalal and others continue to partner with Shingo to offer innovative products and workshops that can help organizations consistently deliver new levels of success to all their stakeholders." According to Geoffrey Mika, a veteran in global lean transformations, "The culture transformation gap in the current lean, Toyota Production System and Six-sigma based platforms is beautifully addressed by Adil Dalal in his iCulture™ simulation. The simulation walks you through the steps of culture assessments and transformations with sophisticated simplicity and in amazing detail. In my 24 years as a kaizen sensei for many Fortune 100 and other organizations, I have never seen a product address culture as iCulture™ does – Adil has truly revolutionized the approach to culture assessment and transformation for organizations."
The iCulture™ workshop is a hands-on workshop developed for executive leaders and individuals interested in sustainable transformation of cultures. It provides an award-winning practical formula for building a customized, sustainable culture of excellence. The formula is based on the principles of operational excellence provided in The 12 Pillars of Project Excellence by Adil Dalal. This book is the winner of three prestigious awards: 2013 Axiom Best Business Book medal, 2014 Shingo Research and Publication medal, and 2015 ASQ Philip Crosby medal. The book has also been adopted as a Leadership Body of Knowledge by the Human Development & Leadership division of ASQ.
Adil Dalal says, "It is about time corporations have a practical approach to culture transformation. iCulture™ has been designed to help organizations of every type and size rapidly undertake a journey to building a strong culture, which will translate to loyal employees, delighted customers and long term success and profitability". Adil adds, "What I am most proud of about this product is that it is made in the USA using latest green technology and is completely customizable to any corporation so that they can be in complete control of their culture transformation."
Adil Dalal is the CEO and Founder of Pinnacle Process Solutions International ®, LLC, past-Chair, Human Development & Leadership division of ASQ, Co-Founder and Chairman of Board for Patriots4ourHeroes, a non-profit helping veterans with PTS and TBI. He is also an author, entrepreneur, keynote speaker and radio show host. In addition to 'The 12 Pillars of Project Excellence', he has also authored 'A Legacy Driven Life' and co-authored the 'Lean Handbook', published by ASQ and 'Change Your World So You Can Change the World' published by the Public Speakers Association. Mr. Dalal is also the winner of '2014 Global Award for Outstanding Contribution to Quality & Leadership' by World Quality Congress & Awards.
For more information regarding iCulture™ or to become a licensed provider of the workshop, contact Pinnacle at e-mail info(AT)pinnacleprocess.com or call 512 212 1166.