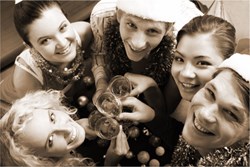 Boise, Idaho (PRWEB) December 09, 2013
This year, the Idaho New Year's Commission has one goal: to celebrate the start of a new year in a way that has never been done before. Staying true to Idaho's roots, the Commission will be dropping a giant, 10' by 15' glowing potato in the heart of downtown Boise, in the Centre on the Grove at the stroke of midnight on New Year's Eve.
This event will span from the Grove Plaza through the 8th street promenade. The New Year's Eve bash will feature FREE, live music, magic shows, street performers, and local food trucks from across the Treasure Valley.
Featuring area bands on two outdoor sound stages, crowds can expect to see bands like Matt Hopper and the Roman Candles, New Transit, Hollow Wood, and much more.
The festivities will begin at 8:00 p.m. with the lighting and raising of the New Year's Eve Potato, followed by the opening ceremonies. After that, a total of eight acts will be performing on the two sounds stages, with the final acts finishing at approximately 11:59 p.m. The last minute before midnight will be dedicated to the lowering of the potato and a final countdown into the new year.
This new event, the first large-scale event since Boise's 1999 New Year's Eve celebration, is sponsored by local companies like Peak Broadcasting, Key Design Websites, 4 North Vodka, Tate's Rents, and Boise 100. KTVB.com will also be the event's exclusive media sponsor. A portion of the proceeds from this New Year's event will be donated to Idaho Schools and the American Red Cross.
For more information about the event and to RSVP for your ticket, visit: http://idahopotatodrop.eventbrite.com.
###
ABOUT THE IDAHO NEW YEAR'S COMMISSION: The Idaho New Year's Commission is a locally sponsored organization whose mission is to bring a new annual event to Boise that will bolster the local economy and pride. http://www.idahonewyearscommission.com/