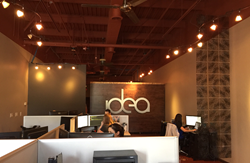 We are really happy with our new space and look forward to continued growth (and not moving again for a while).
Yorkville, IL (PRWEB) May 29, 2015
Idea Marketing Group has officially moved to its new location in Yorkville, Illinois. With continued growth since their inception, Idea chose the new Yorkville location for more space and a cleaner more modern look. By almost doubling their square footage, the growing staff can now spread out a bit more in the new space. In addition to the necessary creative office essentials like a projector television and conference area, the site also boasts duelling basketball hoops, a candy dispenser and a coffee station. The space resembles a Chicago style loft, mimicking the firm's reputation as a Chicago style marketing agency in the suburbs.
Idea's new office is: 1939 S. Bridge Street. Yorkville, Illinois 60560
Since 2009, Idea strives to provide creative, unique and cutting-edge websites along with individualized goal-driven marketing. Idea is a custom Wordpress design and development shop with a team of in-house creative developers, designers, content writers and digital marketers. With digital marketing services offered remotely, Idea hosts a client base throughout the greater Chicago area, as well as clients nationally and internationally. "Although we do much of our client communications remotely, we are now setup to host in-person meetings and collaborations at our new office," says Darren Fox, founder and CEO of Idea Marketing Group. "We are really happy with our new space and look forward to continued growth (and not moving again for a while)."
Idea Marketing Group is not only excited about their spacious new layout, they are thrilled to be part of the Yorkville, Illinois community. They have recently joined the Yorkville Illinois Chamber of Commerce and are getting to know some of their new neighbors. Idea is constantly looking for ways to get involved within the community from volunteering to supporting local charitable events.
Idea Marketing Group is a web design and marketing firm located near Chicago, IL. Idea has extensive experience working with hospitality,nonprofit and manufacturing industries. With goal-driven marketing, Idea works with their clients to meet their digital marketing needs as well as create user-friendly websites catered towards their audience. Clients choose Idea Marketing for award winning web design and marketing services from an experienced and passionate web team that helps grow businesses and excel nonprofit causes. To learn more about Idea Marketing Group, visit http://www.ideamktg.com or call 312.834.7001.