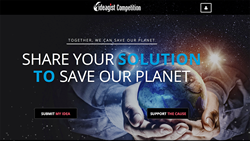 We're running out of time and we need to change the mass way of thinking.
MINNEAPOLIS, Minn. (PRWEB) December 22, 2015
Ideagist.com, has launched its first community competition, Ideagist Global 100 - 100 ways to Reduce our Carbon Footprint, to gather innovative ideas from individuals worldwide on lowering one's carbon footprint. As the U.N. Climate Change Conference convened Dec. 12 with a history-making commitment from 200 countries to end the era of fossil fuels, many people are discovering ways to make their own contributions to limit the greenhouse gas emissions that escalate the earth's warming trend to below 2C (35.6 degrees F), and strive to keep temperatures at 1.5C (34.7 degrees F) above pre-industrial levels.
Many ideas have already been adopted by conservation-minded individuals—carpooling, installing energy-efficient lighting in the home, to name just a few. We realize that there are many familiar ways to reduce one's carbon footprint and Ideagist believes there are many more ideas germinating in the minds of the world's population that deserve to be shared.
Enter the Ideagist contest by sharing innovative ideas that have the potential of helping anyone reduce their carbon footprint. Neutralizing global warming warrants new solutions for cleaner energy sources, and new opportunities for reducing personal ecological demands on the planet's natural ecosystem. All ideas are welcome, from simple measures anyone can easily incorporate into their daily routine, to more complex solutions provided their adoption is within the financial means of an average person.
The rules for entering the contest are simple; each idea submitted should be innovative, it should have the potential to be actualized by an individual—that is, it must be something anyone can do at little to no cost, and it will have an impact on reducing their carbon footprint.
Actual competition will start on January 10, 2016, but people can start submitting their ideas from today through March 31 2016. Ideagist will record all contest entries, and publish those that meet contest guidelines on the Ideagist website to earn "likes" from the general public. The 100 top entries with the most "likes" will be showcased on a special page called the "Wall of Ideas." Entries can be submitted under four different categories and winners under each category will be selected by a panel of judges. Prizes and Rewards will be announced on the official start date of January 10, 2016.
"It is within our reach to adopt a future that is based on renewable energy and say goodbye to the age of Fossil Fuels," says company CEO Hassan Syed. "We would like to see that our platform is used to bring real change.
"Twenty years ago, when the subject of climate change became a topic of general discussion, many of us may have had ideas for reducing personal carbon emissions, but stopped short of developing those ideas because they thought they couldn't contribute individually in a meaningful way, or they didn't know where to go with their idea.
"COP21 in Paris has given hope to all of us in knowing that our governments are finally willing to take action. This is perfect timing for us to start playing a role in our individual capacities," Syed says.
The Global Footprint Network, an ecological organization that calculates a global carbon footprint from UN and other data and publishes the results, estimate that as of 2007, the planet was using up major ecological resources at a rate 1.5 times as fast as they are being renewed.
"We're running out of time and we need to change the mass way of thinking," says Ian Bruce, climate change specialist for the David Suzuki Foundation.
To learn more or to enter, visit the Ideagist Global 100 contest website, email media(at)ideagist(dot)com, or call 612-666-9247.
About Ideagist:
Founded by Bir Ventures CEO Hassan Syed and an international team of entrepreneurial and tech leaders, Ideagist is a collaboration platform for people with ideas and those who are interested in new ideas. It is a place where people and communities can work together toward a better future.
###