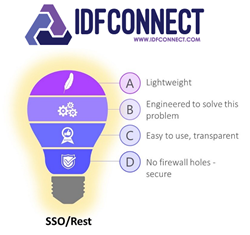 SSO/Rest gives you Zero Trust Access Management in the Cloud - something no other tech currently does - and it does it without turning your infrastructure upside down.
WILMINGTON, Del. (PRWEB) August 14, 2018
IDF Connect, Inc., a leader in Cloud Access Management, today unveiled SSO/Rest™ 3.1, the first stand-alone, Zero Trust Access Management solution designed explicitly for the modern, cloud-centric era. Reaching well beyond the capabilities of federation-based products, SSO/Rest 3.1 ensures that every request gets vetted before it reaches your applications – whether they reside deep in your data center or are hosted in the Cloud.
Today more than ever, concerns over security stand as the greatest barrier between enterprises and the many advantages of cloud computing. Despite record spending on security, 2017 marked the worst year yet for data security incidents, with a rate nearly double that of the preceding year, and with many of the largest (and most public) breaches involving cloud-based data.[1] Not surprisingly, a consensus is rapidly forming that enterprises, particularly those pursuing hybrid-cloud architectures, must implement Zero Trust security to be fully protected.
Enter SSO/Rest.
With SSO/Rest, IDF Connect has pioneered a feasible path to the Cloud for legacy-bound enterprises – by bridging the gap between on-premises single sign-on (SSO) and Web Access Management (WAM) solutions and new, cloud-based infrastructures and applications. By replacing legacy WAM's heavy, restrictive, server-based enforcement points with ultralight, cloud-ready plugins, SSO/Rest allows an enterprise to expand its access enforcement perimeter to cover cloud-based apps – as well as thin clients and mobile apps.
By allowing enterprises to extend rather than replace their legacy access management systems, SSO/Rest not only removes the need to do major new integration work but also brings the full security power of traditional enterprise WAM to cloud-based apps. This means not just SSO, but also authentication management, centralized audit, session management, and crucially, fine-grained Zero Trust Access Management. Zero Trust Access Management means that every single request is checked against a centralized policy engine before authorizing any access to your resources.
"SSO/Rest gives you Zero Trust Access Management in the Cloud - something no other tech currently does - and it does it without turning your infrastructure upside down," says Richard Sand, IDF Connect's CEO.
With the introduction of SSO/Rest 3.1, IDF Connect has taken Cloud Access Management a step further. As a fully modern, stand-alone web access manager built from the ground up to work with the Cloud, SSO/Rest 3.1 doesn't only let enterprises extend their legacy WAM systems to cloud-based apps; it lets them cut the cord entirely – and do so at their own pace. This flexibility brings two major new capabilities to enterprises seeking to modernize their WAM infrastructure: first, the ability to unify various access management infrastructures under a single umbrella; and second, the flexibility to migrate apps one at a time - rather than in a risky, "big bang" approach.
SSO/Rest 3.1 achieves this flexibility by integrating the fastest, most comprehensive XACML policy engine on the market, the Axiomatics Policy Server. "Both the explosion in ways for users to connect and the challenges of the Cloud mean that centralized access control is more important than ever. We are excited to work with IDF Connect to bridge the gap between centralized access control and enforcement anywhere," says Gerry Gebel, Axiomatics' VP of Business Development.
The Cloud brings both great opportunities and significant challenges. IDF Connect's SSO/Rest enables enterprises to achieve their Cloud strategies safely and affordably by overcoming the technological and security obstacles that stand in the way. By extending Zero Trust Access Management to Cloud-based applications, SSO/Rest fills a major gap in what is sure to become the standard security model for Cloud computing.
About SSO/Rest
SSO/Rest is a lightweight, easily implemented, Cloud Access API solution that provides Zero Trust Security, single sign-on, and access management to enterprises with, or moving toward, a hybrid-cloud model. Going well beyond federation-based tools, SSO/Rest protects applications outside of your corporate boundaries just as if they were inside your own data center. SSO/Rest can Cloud-enable your existing legacy access management tools or be your complete stand-alone, fully modern SSO and access management solution. You can read more about SSO/Rest on IDF Connect's website: https://www.idfconnect.com/products/sso-rest/.
About IDF Connect
IDF Connect provides innovative Web Access Management solutions to enterprises and other large organizations. A member of CA Technologies Technology Partner Program, IDF Connect specializes in helping customers enable SSO and WAM for cloud-based applications by extending – rather than replacing – existing, on-premises WAM technology. For more information visit http://www.idfconnect.com or contact IDF Connect at info(at)idfconnect.com.
[1] "Cyber Incident & Breach Trends Report Review and analysis of 2017 cyber incidents, trends and key issues to address", Online Trust Alliance, The Internet Society, 2018. https://www.otalliance.org/resources/cyber-incident-breach-response