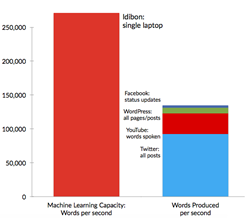 San Francisco, California (PRWEB) February 22, 2016
Idibon is announcing the launch of a new Machine Learning library, IdiML, for ultra-low latency text analytics at scale.
Artificial Intelligence has become common in business, especially in big data processing. For most companies, it has simply been impossible to process the amount of data produced by large scale text processes like social media services, or to apply fast machine learning for real-time human interaction. We are aiming to solve this for everyone.
IdiML is so fast it can process the entire Twitter Firehose in real-time on the CPU of a single laptop, still leaving half the CPU capacity free!
On a single laptop, it can process every Facebook status update, every transcribed word from YouTube videos, and every word on every single WordPress blog, extracting tailored categories of information about sentiment, topics or intents.
The breakthrough comes from intelligent in-memory processing that allows the information to be extracted without expensive database or file lookups, allowing information to be processed from individual messages in less than a millisecond.
Just like all our other work, our new extensions are language independent. The new IdiML is compatible with the 60+ languages that we have worked in to date and any that we will add. Idibon was formed with the goal of bringing intelligent language processing to all the world's languages, and the IdiML breakthrough takes us one step closer.
For more details on the technology and the people who built it, see:
http://idibon.com/ai-for-world-scale-data-on-a-laptop