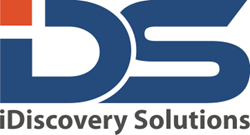 I'm extremely excited to be a part of a great group of experts that will be presenting on some of the hottest topics in e-Discovery and digital forensics
Washington, DC (PRWEB) March 14, 2014
iDiscovery Solutions, Inc., ("iDS"), an award-winning, global, legal technology expert services firm headquartered in Washington, D.C., will be represented by four of its Directors on various panels at the Masters Conference's San Francisco event on March 19. The theme of the event, to be held at The City Club from 11:30am-5:15pm PT, is "Managing the e-Discovery and Social Media Minefield."
Speaking at the conference will be:

Tom Matzen, iDS' Director of International Discovery and Data Privacy, will be Moderator of the "Discussion and Debate Over Potential Changes to the Federal Rules of Civil Procedure (FRCP)" panel. The session begins at 1:15pm and will also feature Adrian Sawyer of Kerr & Wagstaffe, Eric Evans of Mayer Brown, and Gordon J. Calhoun of Lewis Brisbois. Mr. Matzen will also be a panelist on a 4:00pm session entitled, "EU Data Privacy Regulations: New and Far More Stringent?" He will again share the stage with Adrian Sawyer.
Brandon Leatha, Director, and Daniel Regard, Managing Director, will speak on the 2:30pm "Cloud Computing & Mobile Devices: How to Be Prepared for Litigation" panel, along with Jason Priebe of Seyfarth Shaw.
Trent Livingston, Director, and Daniel Regard, Managing Director, will be featured on the 1:15pm panel, "The Social Media (R)Evolution: How Social Media Content Impacts e-Discovery Risks and Costs." Mr. Livingston will be a panelist, along with Aaron Crews from Littler LLP and Brian Rocca of Bingham. Mr. Regard will be the Moderator for that panel.
"It's great to be back in San Francisco again with the Masters Conference," said Tom Matzen, who is based out of Austin, TX for iDS. "I'm excited to present with Adrian Sawyer of Kerr & Wagstaffe on data privacy. This area has clearly been a hot topic around the world, especially given the Snowden fallout and the resulting reinvigorated discussions in the international community surrounding not only their data privacy laws, but their perception of how the United States handles the privacy of its citizens."
Added Director Brandon Leatha, "I'm extremely excited to be a part of a great group of experts that will be presenting on some of the hottest topics in e-Discovery and digital forensics. The Masters Conference is always a top forum to learn, share, and meet others that work within the intersection of law and technology."
The first session of the day will focus on the potential game-changing amendments to the Federal Rules of Civil Procedure. The federal judiciary's Committee on Rules of Practice and Procedure, better known as the "Standing Committee," held not only three public hearings on the proposed alterations, but also allowed for open letters to be submitted for review and consideration through February 18. "I am looking forward to being a part of what should be a spirited session on the proposed changes to the FRCP," said Mr. Matzen. "It has been one of the most talked about topics throughout our industry and it will be interesting to hear the opinions of the other experts on the panel, as well as from the incredibly knowledgeable attendees."
Please go to http://www.themastersconference.com to register for San Francisco, see the full lineup of speakers, and to find out more information about upcoming Masters Conference events in Chicago, Philadelphia, and Washington DC.
About iDiscovery Solutions
iDiscovery Solutions, Inc. (iDS) is an award-winning, global, legal technology expert services firm. Founded in Washington, D.C. in 2008 by industry veterans with more than 50 years of litigation and consulting experience combined, iDS provides consulting, data analytics, processing and hosting of electronically stored information (ESI), and expert services in the areas of electronic discovery, digital forensics, and enterprise applications. iDS also provides subject matter experts that testify as to how technology works, generally and specifically, within the context of litigation, investigations, and government inquiries. For more information, visit http://www.iDiscoverySolutions.com and follow the company on Twitter @iDiscoveryInc.
About the Masters Conference
The Masters Conference provides practical CLE education for lawyers and litigation support professionals that are delivered by experts with front-line experience. Session content for each event is developed by an advisory cabinet of industry thought leaders. Attendees will gain practical knowledge, presented by peers, on current issues that can be applied immediately to everyday practice. Registration is limited for all events. To register online for Masters Conference events, please visit http://www.themastersconference.com. You can find The Masters Conference on Twitter @MastersConf and on Facebook and LinkedIn.