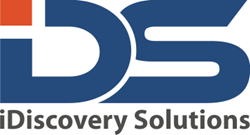 Predictive coding continues to be a source of both opportunity and confusion.
Washington, DC (PRWEB) November 13, 2013
Daniel Regard, Managing Director of iDiscovery Solutions, Inc., ("iDS"), an award-winning, global, legal technology expert services firm headquartered in Washington, D.C., will speak on a Predictive Coding panel at McDermott Will & Emery's 2013 Technology in the Law Symposium on November 13. "Predictive Coding – What Are the Courts Saying" will be held from 1:30pm – 2:45pm ET at the venerable law firm's Washington, D.C. offices. The panel will be moderated by Mollie Nichols of Redgrave LLP, and will also feature Ed Larkin of Edwards Wildman, Jessica Cullen Smith of McDermott Will & Emery, and Allison Stanton of the DOJ's Civil Division.
The panel will discuss recent case law on the use of predictive coding. Through the discussion of U.S. cases such as Kleen Products, Global Aerospace, Gordon, Da Silva, and Estate of Robert H. Brooks, Inc., the panelists will cover issues such as proportionality, cooperation, and reasonableness.
"Predictive coding continues to be a source of both opportunity and confusion," states Mr. Regard. "I look forward to participating in a lively discussion on the current legal trends in this area."
Mr. Regard is a nationally recognized electronic evidence and case management expert with more than 20 years of experience consulting with legal and corporate entities. A programmer and an attorney by training, Regard has conducted system investigations, created data collections and managed discovery on some of the highest profile investigations of the last decade. He has national and international experience advising on such issues as e-Discovery, computer forensics, database development, application software, data analysis, and repository services. He has testified on numerous occasions and been engaged as a testifying expert and a court-appointed neutral on issues of e-Discovery.
The symposium will also feature a keynote introduction by U.S. Magistrate Judge John M. Facciola. Hon. Facciola's keynote is entitled, "Predicting: The Future" and will take place from 12:30pm – 1:30pm ET. The welcome address will be by Geoffrey A. Vance of the host firm and the other sessions for the half-day event are "Predictive Coding Pessimists and Promoters" and "But I'm Not a Litigator: The Use of Data Analytics in Other Areas of the Organization." Jason Baron of Drinker Biddle & Reath LLP, and former Director of Litigation for the National Archives and Records Administration, will moderate the latter panel. Information for the symposium can be found at: http://www.mwe.com/Technology_in_the_Law_Symposium_2013/
About iDiscovery Solutions
iDiscovery Solutions, Inc. (iDS) is an award-winning, global, legal technology expert services firm. Founded in Washington, D.C. in 2008 by industry veterans with more than 50 years of litigation and consulting experience combined, iDS provides consulting, data analytics, processing and hosting of electronically stored information (ESI), and expert services in the areas of electronic discovery, digital forensics, and enterprise applications. iDS also provides subject matter experts that testify as to how technology works, generally and specifically, within the context of litigation, investigations, and government inquiries. For more information, visit http://www.iDiscoverySolutions.com and follow the company on Twitter @iDiscoveryInc.