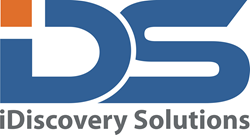 "It has been an honor to work beside Julian over the last 10 years," said Neal Lawson, President of iDS. "His dedication to the company, his clients, and the people at iDS is unparalleled."
Washington, DC (PRWEB) June 16, 2014
iDiscovery Solutions, Inc. (iDS), an award-winning, global, legal technology expert services firm headquartered in Washington DC, announced today that they have promoted Juilan Ackert to the level of Managing Director. Mr. Ackert will be responsible for leading the DC Consulting Practice, ensuring the e-Discovery professionals on his team are thriving in this challenging and rewarding industry.
Mr. Ackert's subject matter expertise, passion for e-Discovery, and commitment to iDS' clients and core values has made him the perfect candidate for this seat on the firm's leadership team. He has extensive experience with forensic data collection, computer forensic analysis, creating and implementing preservation and collection strategies, managing electronic data processing and review endeavors, analyzing complex transactional data systems, and working with large multi-national corporations to establish and develop methodologies and best practices for litigation preparedness.
"It has been an honor to work beside Julian over the last 10 years," said Mr. Neal Lawson, President of iDS. "His dedication to the company, his clients, and the people at iDS is unparalleled."
Added Mr. Dan Regard, iDiscovery Solutions' CEO, "His level of commitment to providing the best e-Discovery solutions to our clients has become the standard. iDS has come a long way, in great part to Julian's contributions."
Prior to coming to iDS, Mr. Ackert was a Principal and New York regional lead at LECG and a Manager at FTI Consulting. In the last 5+ years, he has been able to use the skills and abilities he has learned over time to develop a renowned reputation both in the industry and within the company. This promotion highlights those accomplishments and rewards his excellence.
About iDiscovery Solutions
iDiscovery Solutions, Inc. (iDS) is an award-winning, global, legal technology expert services firm. Founded in Washington, DC in 2008 by industry veterans with more than 50 years of litigation and consulting experience combined, iDS provides consulting, data analytics, processing and hosting of electronically stored information (ESI), and expert services in the areas of electronic discovery, digital forensics, and enterprise applications. iDS also provides subject matter experts that testify as to how technology works, generally and specifically, within the context of litigation, investigations, and government inquiries.