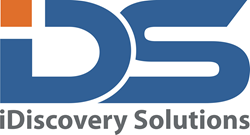 Each of our sessions provide counsel with the most relevant and current information about specific areas of the e-Discovery landscape and offer unique perspectives about the latest topics and cases
Washington, DC (PRWEB) August 07, 2014
iDiscovery Solutions, Inc.(iDS), an award-winning, global, legal technology expert services firm headquartered in Washington, DC, announced today a new program to provide accredited CLE's to law firms across the country. Offered as either single-topic sessions or an entire educational series, each CLE will focus on the latest relevant topics in e-Discovery, digital forensics, social media, international data privacy, and more. Known as some of the top thought leaders in the industry, iDS' experts are often called upon to testify in cases large and small, as well as speak around the country at conferences and law firms, on all aspects of litigation technology and discovery.
iDS' initial list of topics are:

A Lawyer's Introduction to Computers: Understanding Technology and Digital Evidence
e-Discovery & Digital Forensics Explained and Demystified
General Discussion on Social Media and Its Impact on e-Discovery
Cloud Computing & Mobile Devices - How to be Prepared for Litigation
Predictive Analytics and Its Effect on Big Data
EU Data Privacy Regulations - New and Far More Stringent?
The Social Media (R)Evolution: How Social Media Content Impacts E-Discovery Risks and Costs
Review of Proposed Changes to the Federal Rules of Civil Procedure
"Our CLE program is an invaluable tool for both attorneys beginning a foray into e-Discovery work, as well as seasoned litigators who are looking to keep their skills and knowledge fresh," noted Jennifer Brennan, a Director at iDS and former partner at Gilbert LLP. "Each of our sessions provide counsel with the most relevant and current information about specific areas of the e-Discovery landscape and offer unique perspectives about the latest topics and cases. Our subject matter experts help counsel better manage the e-Discovery process and provide deeper expertise on best practices."
iDS can also tailor an individual or collection of CLE programs to fit the needs of a particular firm or practice group. To learn more about shaping a CLE program, or to schedule one or more for your firm, please contact iDS' CLE team at CLE@idiscoverysolutions.com.
About iDiscovery Solutions
iDiscovery Solutions, Inc. (iDS) is an award-winning, global, legal technology expert services firm. Founded in Washington, DC in 2008 by industry veterans with more than 50 years of litigation and consulting experience combined, iDS provides consulting, data analytics, processing and hosting of electronically stored information (ESI), and expert services in the areas of electronic discovery, digital forensics, and enterprise applications. iDS also provides subject matter experts that testify as to how technology works, generally and specifically, within the context of litigation, investigations, and government inquiries. For more information, visit http://www.iDiscoverySolutions.com and follow the company on Twitter @iDiscoveryInc.