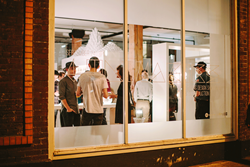 I could not have been more impressed by the work, the energy in the space, and the impact this event made on our studio.
Portland, Oregon (PRWEB) October 07, 2015
Held on Thursday, September 24, IDL Worldwide and Gallery 135 invited the public to enjoy Luminaries, a lighting design showcase and silent auction to benefit Habitat for Humanity Portland/Metro East. IDL Worldwide is pleased to announce that $3,503 was raised as a result of the silent auction.
Over 300 participants attended the Luminaries event, which included designers from IDL Worldwide and Anthem, as well as artists and makers from Portland, San Francisco, New York and Toronto.
35 light fixtures were created and displayed for bid at Gallery 135. Of the 35 fixtures, 32 were sold, with 100% of the proceeds going directly to Habitat for Humanity Portland/Metro East.
Alex Vera, IDL Executive Creative Director, shares, "Luminaries brought together some of Portland's most talented designers, makers, and artists to showcase their craft through light fixtures, and to support a good cause. I could not have been more impressed by the work, the energy in the space, and the impact this event made on our studio. All in all a complete success and another huge night at IDL!"
For more information, contact Allison Duval, IDL Marketing at luminaries(at)idlww(dot)com
About IDL Worldwide:
IDL Worldwide is a global brand services firm that creates compelling brand experiences at retail that deepen shopper engagement and desirability in-store. IDL delivers strategy, creative, execution and reporting of in-store marketing programs that range from temporary graphics to store fixtures. IDL is part of the brand development group of SGK. SGK is a division of Matthews International Corporation (NASDAQ GSM: MATW). For more information visit http://www.idlww.com/