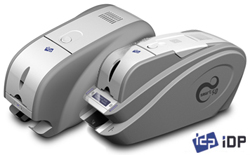 St. Louis Park, MN (PRWEB) May 20, 2014
ID Wholesaler, the leading photo identification products retailer, is now offering a new line of ID card printers from IDP. The IDP card printer line-up includes three printer models: the Smart-30, Smart-50, and Wise-CXD80. All three printer models are easy-to-use, feature a compact design, and offer upgradeable options to fit varying needs.
The most distinctive feature of IDP printers is their industry-leading three-year warranty and printer exchange program. If an IDP printer goes down during the warranty period, customers do need to ship a loaner printer back-and-forth. Instead, customers simply exchange their printer for a replacement printer. The replacement printer is then covered for the duration of the initial printer's warranty. In addition, IDP replaces blown printheads within their direct-to-card printers for two years and printheads within their retransfer printers for the life of the printer – all no questions asked!
Learn more about the three IDP printer models:
The IDP Smart-30 is an easy-to-use value direct-to-card printer with enhanced data security that is typically not found in entry-level card printers, including data encryption, SSL Protocol on Ethernet communications, and PC authorization. It is available as a single- or dual-sided printer with Ethernet and encoding options.
The IDP Smart-50 is a high quality and fast direct-to-card printer boasting print speeds of up to 163 full color single-sided cards per hour. It is available as a single- or dual-sided printer with Ethernet and encoding options, along with a dual-sided lamination option to further protect and secure printed cards.
The IDP Wise-CXD80 offers superior print quality and durability with retransfer technology and the ability to enhance card security with single- or dual-sided lamination. It also offers Ethernet connectivity and card encoding options.
All three printers are now available for purchase from IDWholesaler.com. For more information about ID Wholesaler and IDP printers, contact an ID Professional at (800) 321-4405 or visit http://www.IDWholesaler.com.
About ID Wholesaler
ID Wholesaler is the largest retailer of the equipment needed to print photo identification cards and the accessories used to display them. Serving its clients with guaranteed lowest prices, expert advice, and free in-house technical support on everything they sell, ID Wholesaler stocks a broad selection of ID card printers and systems, software, supplies, and badge accessories. For more information, visit http://www.IDWholesaler.com.