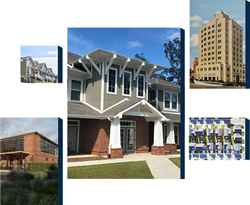 VALDOSTA, Ga. (PRWEB) February 07, 2019
2019 has brought many exciting changes to IDP Housing. They will begin this new year with an updated brand identity which includes an updated name, IDP Properties, as well as a new website, logo, and in early spring a new office location!
Over the last eight years, IDP's success in the affordable housing industry has allowed them to grow their portfolio. They have been fortunate to expand into a variety of developments and partnerships and felt their company name should reflect that growth. The core of their name remains their founding principles, IDP: Integrity, Diversity, and Purpose. They will continue to be focused on investing in and redeveloping communities to leave a lasting positive impact.
IDP's website and logo have also been updated with a fresh new look. The new website, http://www.idpproperties.com, gives users an improved online experience to explore IDP's areas of expertise, portfolios, team members, guiding principles and core values. You will also be able to find them on Facebook, Instagram, LinkedIn. Look them up and give them a follow to stay updated on all their developments and community engagement.
The Converse Building in downtown Valdosta, Georgia will serve as the new headquarters to IDP Properties in early spring 2019. IDP is especially proud to call this building home because they were able to use their expertise in historic adaptive reuse to create a modern, comfortable office environment for their growing team as well as being able to revive an important landmark in their own community. Their new address will be 123 North Patterson Street, Valdosta, Georgia 31601.
IDP Properties is a full-service real estate development firm headquartered in Valdosta, Ga that invests in and redevelops communities. IDP's leadership has completed over $1 billion dollars in projects and specializes in acquisitions, property management, consulting and development. IDP takes pride that each project they develop is as diverse as the communities they serve. IDP Properties' purpose is to strengthen communities and leave a lasting positive impact.