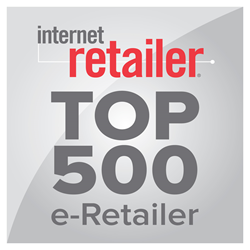 With an increasingly competitive online marketplace, we are thrilled to be included in the Top 500 Guide for the sixth straight year.
St. Louis Park, MN (PRWEB) May 13, 2014
ID Wholesaler, leading photo identification products retailer, announced their ranking of #456 in the 11th Annual Internet Retailer Top 500 Guide. This is the sixth consecutive year that ID Wholesaler has been named to this prestigious list of leading players in online retail.
This year's Top 500 Guide includes current and historical web sales and rankings as well as marketing, operating, financial and performance data on each of the 500 leading e-retailers in North America. According to the U.S. Department of Commerce and Internet Retailer, ecommerce continues to rapidly climb. While total retail sales in the U.S. grew 3.67% to $3 trillion in 2013, the growth rate in total online retailing sales was at least four times greater: $263.3 billion in 2013.
"With an increasingly competitive online marketplace, we are thrilled to be included in the Top 500 Guide for the sixth straight year," says Chris Penn, Vice President of Sales & Marketing of ID Wholesaler. "We are the only photo identification products retailer on the list, and to be in the company of web giants like Amazon, Apple, Target and Staples, is really a testament to the tireless efforts of every one of our ID Wholesaler team members!"
With a customer base that currently stands at over 82,000, ID Wholesaler is the largest retailer of photo identification products. Their product offerings include all of the equipment and supplies needed to make photo ID badges, including ID card printers, ID software, ID cards, and badge accessories. They recently celebrated their 10th year in business.
"We launched ID Wholesaler a decade ago with a simple goal: to 'wow' our valued customers – with both product and service. This continues to be our primary goal," notes Penn. "The combination of the expertise provided by our dedicated Account Managers, our user-friendly website, in-stock inventory, fast delivery, and our in-house, factory-trained technical support team continue to set us apart from the competition."
For more information about ID Wholesaler and their Internet Retailer ranking, contact an ID Professional at (800) 321-4405 or visit http://www.IDWholesaler.com/about-us.
About ID Wholesaler
ID Wholesaler is the largest retailer of the equipment needed to print photo identification cards and the accessories used to display them. Serving its clients with guaranteed lowest prices, expert advice, and free in-house technical support on everything they sell, ID Wholesaler stocks a broad selection of ID card printers and systems, software, supplies, and badge accessories. For more information, visit http://www.IDWholesaler.com.
About Internet Retailer
Published by Chicago-based Vertical Web Media LLC, Internet Retailer is a monthly national business magazine that is at the core of the leading retail information web site, an e-commerce conference and four directories that serve the retailing community. Internet Retailer's subscribers represent senior executives primarily from retail chains, independent stores, catalogs, virtual merchants and brand name manufacturers. Internet Retailer's circulation represents the largest multichannel readership base of any retailing magazine.