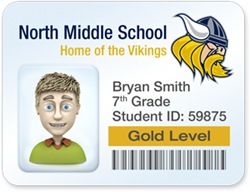 St. Louis Park, MN (PRWEB) June 23, 2014
With many K12 schools taking a summer vacation break, ID Wholesaler, leading photo identification products retailer, is encouraging school officials to use this time to prepare their school IDs for the 2014-2015 school year.
To guide schools, ID Wholesaler has developed special resources to ensure that schools are educated and have everything they need to support their photo ID programs.
DOWNLOAD A FREE K12 STUDENT ID GUIDE
One of the tools that ID Wholesaler created for schools is a free guide called "Eight Ways to Improve the ROI of Your School ID Card Program." When schools download the guide, they'll also have access to a number of resources, including whitepapers, videos, and shopping tools.
"We developed this guide to help schools make the most of their ID programs," notes Jennifer Clancy, marketing manager at ID Wholesaler. "The guide includes eight ways that schools can expand the functionality of their school ID card programs and, as a result, see a greater return on their investment."
SHOP EXCLUSIVE SCHOOL ID SYSTEMS
Many schools either do not have the time to research school ID systems or believe that a new system is not within their budget. To make it easier for schools to shop for school ID printers, ID Wholesaler developed three exclusive K12 school ID systems.
Each bundled system includes everything needed to start printing school IDs, including: a school ID printer, card printer ribbon, blank ID cards, Asure ID Express ID software for designing and managing student ID cards, lanyards with a safety breakaway feature, one hour of training, and lifetime support.
"We understand how busy school administrators, staff, and teachers are, so we developed these custom systems to meet their specific needs," says Clancy. "With this, schools can shop quickly and with confidence to get everything they need for their school ID program."
SHOP TOP-SELLING SCHOOL ID SUPPLIES
In addition to the custom school ID systems, ID Wholesaler has compiled a list of the top-selling school ID supplies to make it easy to shop for popular ID supplies. With this, schools can quickly and easily access blank ID cards, lanyards, badge holders, badge clips, and visitor badges that are ideal for use in schools.
For more information about ID Wholesaler and their efforts to help K12 schools, contact an ID Professional at (800) 321-4405 or visit http://www.IDWholesaler.com.
About ID Wholesaler
ID Wholesaler is the largest retailer of the equipment needed to print photo identification cards and the accessories used to display them. Serving its clients with guaranteed lowest prices, expert advice, and free in-house technical support on everything they sell, ID Wholesaler stocks a broad selection of ID card printers and systems, software, supplies, and badge accessories. For more information, visit http://www.IDWholesaler.com.